Previous Builder
Next Builder
Date: 12-01-2018

Number of Hours: 1.50

Short Description: Tired

Started to assemble the wheels and tires and tubes. The nosewheel went together easy; that's pretty much like the RV-7A.

The mains, not so much. It took awhile just to figure out how to get them disassembled. The instructions -- or rather the figure that accompanies the lack of instructions -- isn't very good because the valve stem placement is a mystery. There's a slot on the side of hub, and I'm starting to think it points down rather than up because you can't square it up.

I shall noodle upon it some more. And maybe even read the MATCO manual.

I'm pretty sure that points down , there, Bob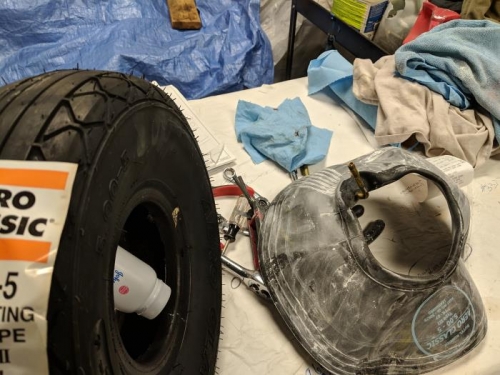 Hmmmm, baby powder!
Previous Builder
Next Builder