Date: 12-09-2018

Number of Hours: 6.00

Short Description: Panel Switches


Very, very hot out here in the outback this weekend (42C), so I only spent a few short stints in the shed. An hour on Fri night, then 2.5 hrs on Sat and Sun. I ran in several more power and ground wires, and also fixed up an error I'd made with the wiring of my pitch servo. Not much to show for my efforts, so I thought I'd include some pictures of my recently delivered instrument panel switches instead.

For my panel switches I had a few criteria to meet.
1: must be compact in size
2: must have backlighting
3: must be able to custom engrave the rockers

Criteria 2 and 3 enable reading the switches at night, and therefore aid with my aim to build to NVFR rating, without the need for floodlighting and printing the instrument panel.

The only switches that I could find anywhere that met my criteria were Honeywell's AML series devices. Naturally, and it goes without saying, these switches are by far-and-away the most expensive I could have chosen. I've paid about AU$760 for switches, lamps, rockers and custom engraving....OMG!

After much deliberation about how much this would cost, I ended up ordering the following from Master Electronics (USA):
6 x AML24GBA2AA01 ON-OFF switches
2 x AML24GBA2AA04 ON-OFF-ON switches
25 x AML91ALA73 14V lamps (2 in each switch, plus spares)

In addition, supply of switch rockers and custom engraving was done by Aircraft Engravers (USA).

I'm also trying to source a matching (ON)-OFF-(ON) momentary toggle switch for my flaps, Honeywell part number AML23GBA2CA05, but this is proving very elusive. There is one US supplier who has quoted AU$156 (for one switch) but for now I think I'll keep searching. I'll keep those guys as my expensive fall-back position.

Financial advice from an expert: Want to off-load some serious cash?.............build an aeroplane!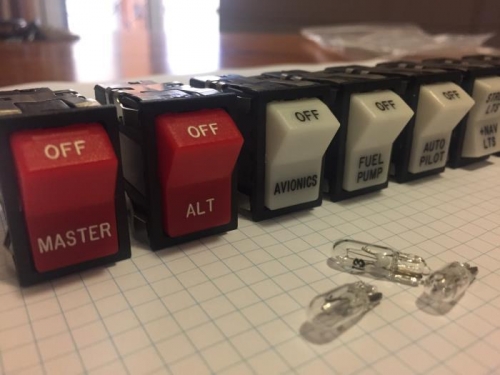 Honeywell AML series switches, complete with custom engraved rockers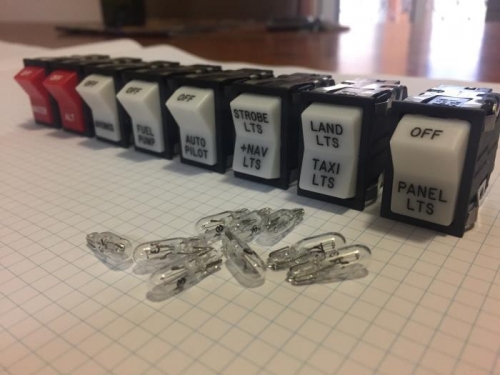 I included some spare globes in my order from Master Electronics (USA)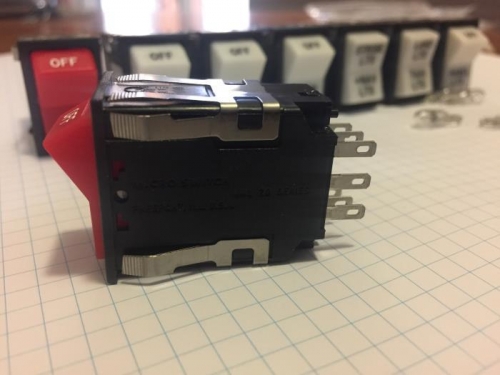 These switches are really neat....bloody expensive.....bloody hard to source......but really neat!