Previous Builder
Next Builder
Date: 01-14-2018

Number of Hours: 5.00

Short Description: Left Side Step


After a break from aircraft building for over 30 days while I went on break, I figured today was the perfect time to get back into it again. After reviewing my work to see where I was up to I remembered that I still had the left side step to complete. Bugger. The right side was a shit!

I started by enlarging the hole in the inside floor rib so that the step tube could pass through, and then I measured and cut off about 5mm from the end of the tube so that it fit just a couple mm short of the next floor rib over.

I then marked and drilled all holes in the step flange (#30), before match drilling to the fuselage. I again only placed four rivet holes in the vertical row that aligns with the fuselage stiffener so that the new rivets end up in between the rivets that are already there.

Once all the holes were drilled and deburred then I marked and installed the plastic mounting block on the inner floor rib.

I had an awful lot of trouble getting the angle right on this step. When the step flange was pulled up snug to the fuselage skin the tube was angled to far to the rear, by about 20mm (measured at the plastic block). The only way I can see this happening is if the flange on the step is welded at the wrong angle. I ended up forcing the step tube forward before drilling the bolt holes for the mounting block.

When all this was done I cleaned the whole lot up and primed.


Reaming out the floor rib, from outside, with my long extension bit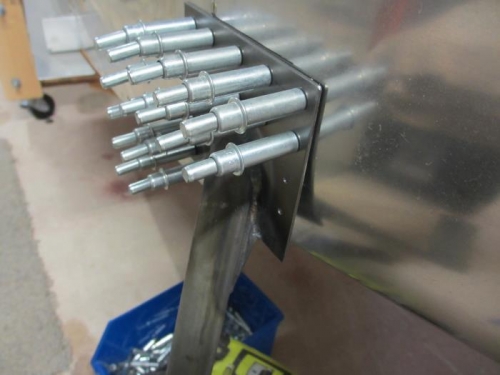 Match drilling the step to the fuselage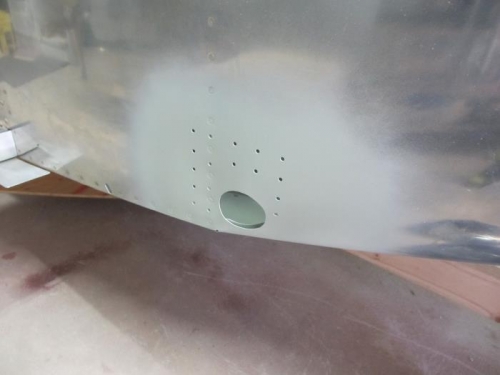 When all was prepared I then sprayed some primer all around
Previous Builder
Next Builder