Previous Builder
Next Builder
Date: 03-12-2018

Number of Hours: 3.00

Short Description: 2: Leading Edge Landing Lights


Okay, so I'd put off working on the landing light lens long enough. First I marked out the supplied perspex part to the final shape, allowing 3/4" overlap at the top/bottom, and 5/16" overlap at the sides.

Next, using my trusty dremel, I very gingerly set about cutting the perspex to it's final shape. This went very well, although I did take it very steady, and held the high speed tool firmly with two hands in case it should bite. After trimming to rough size I then sanded the edges back neatly to my marked lines on the belt sander. A final once over with some fine sandpaper and all good.

I've ordered some special plexiglass drill bits, however they're still a couple weeks away yet from delivery, so I shouldn't really go on with the next step of match drilling the screw holes in the perspex. However, being a very warm day (32C/90F), I thought I'd try drilling a few #40 practice holes in an offcut. I drilled six holes with no dramas. Cool.

Using duct tape as a handle to pull the lens tight into the leading edge (the instructions tell you exactly how to do this...works a treat), I match drilled all six screw hole locations with no issue. Well, just one small issue. When drilling the top holes (which are on the bottom, because I've got the wing upside down) I must have pulled on the perspex lens at the wrong angle because I've ended up with a slight gap between the perspex and wing skin right at the leading edge. It's not so bad that I'm going to discard the piece, but I may consider getting another lens blank down the track and redo this one. Duckworks will be at Oshkosh, so might get a new lens piece there.

Anyway, thought I'd leave it at that today. I don't want to drill out the holes in the perspex to final size until my proper plexiglass drill bits turn up.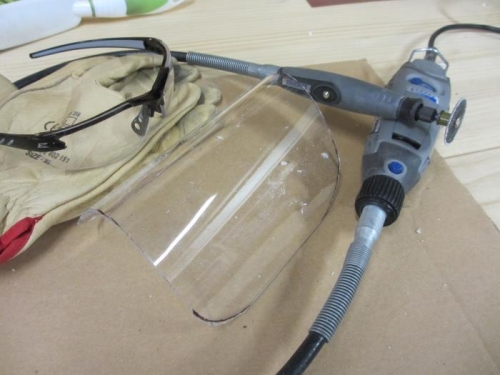 The dremel made very easy work of trimming to the final shape. This is a "wonder-tool"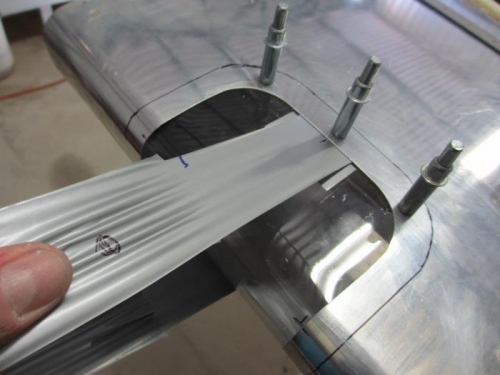 Using duct tape as a handle to pull the lens tight into the leading edge works very well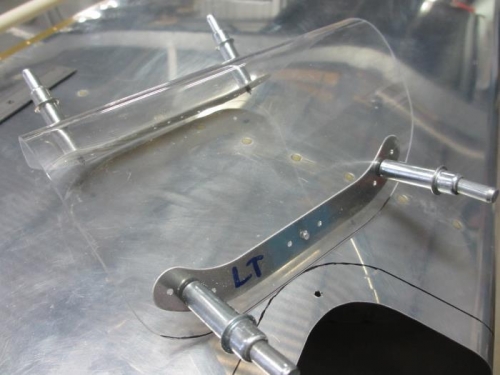 Perspex lens with nutplate "brackets" clecoed in place
Previous Builder
Next Builder