Previous Builder
Next Builder
Date: 09-23-2018

Number of Hours: 1.50

Short Description: Wing attach to CS Spar

Everything is square, and organised. CH19 is basically done. The Spar doesn't get installed untill the Turtleback is done. Other remaining action is finishing the aileron torque tube on the left Wing. Need some more tubing.

In other news Cozy IV #1331 has a rego. I reserved VH-CZS - "CoZy Spodplane". Here it is trying on its rego after finishing CH19, the wings are DONE! The learned among you will note I have propped the left winglet on the right wing, but please grant me artistic license. Another reason to grab this rego mark? I did a flight deck famil on this rego in the year 2000 when it was painted on an Ansett B737-300. This means whatever happens on the first flight, I will have flown safely on this rego before :) Pretty cool that the aeroplane flew with Qantas also, can't be too many that did that.

ps. It appears my moustache has fallen off. Not sure about that yet...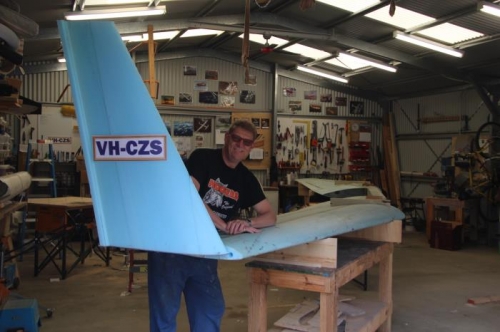 CoZ Spodplane!!!
Previous Builder
Next Builder