Previous Builder
Next Builder
Date: 12-01-2019

Number of Hours: 1.00

Short Description: Pitch controls


Slipped a bit of conduit over the right stick and clamped to the fuselage at 5 degree forward inclination, measured with a vertical level and electronic protractor. Trial fit the hardware and discover that the plans called out AN4-11A bolt is required, but some idiot has pencilled in AN4-10A on my plans. Hmmmm. I am out of AN4-11A, and I also note that the AN4-10A only just fits between the fuselage and the bellhorn. Hmmmmmm, unless I gouge out the nose a bit I will need to fit CS-138 with the Canard off!

Clamp Elevators to 0 degrees and cut CS-138 to correct length. Reinstall and have pure joy making the Elevators go up and down with the stick for the first time! I'll rivet and install the QDK when I pull the Canard off again. I relieved the holes in the Instrument Panel and bevelled the bottom edge of CS-109 to achieve full movement.

Cut the inboard end of the elevators as planned as look at fairing cores. Decide this is the opportunity to put a 1/2" flange on the fuselage side under the Canard. Hmmmmm

Note I had forgotten to trim the Aileron torque tube holes in the Firewall and MLG bulkheads after taping the Spar, so did so.

Returned to the shed just befor bed and cut out one of the Fuselage side windows. Just because!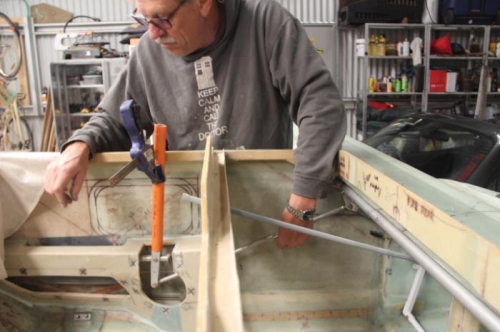 Where is that bloody texta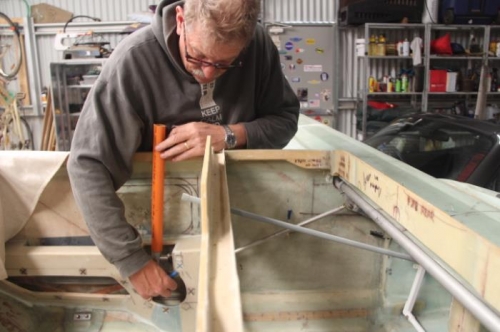 It works!
Previous Builder
Next Builder