Previous Builder
Next Builder
Date: 10-06-2017

Number of Hours: 3.00

Short Description: Wing CS Spar Cap troughs


Finished routing bottom.

Sanded to template profile at BL0/37/52/67.5. Sanded betwixt with 430mm sanding block created to hold the biggest sanding belt I can get from Bunnings Aerospace. Proceed to eliminate fingerprints so I can't open my mobile phone with the fingerprint reader... Trickiest bit is the turn at BL28.36, I sanded the tangent with the big block then used a small block for the port side, just used the big block for the other and it worked well.

Jigged up the bottom side to cut the top troughs. Sanded the micro joins and protruding 1/4" foam with the long sanding block, and it worked a lot better than the router I used on the bottom. It wouldn't work with the plans urethane, but even the micro blobs sand better than the H45.

Cut the troughs out to BL37 where the taper starts, not feeling fresh enough to proceed.

Spent a bit of time plotting the next step, and mark up the foam so I can cut the troughs outboard at the level of the forward edge of the trough, and profile the rest with the sanding block. Might even work, but getting a bit groggy as I type this as I am 'celebrating' a shite work week with plenty of red wine... Wait 10 minutes to sneak into the bedroom to snaffle another bottle? F*&k it, time for RUM!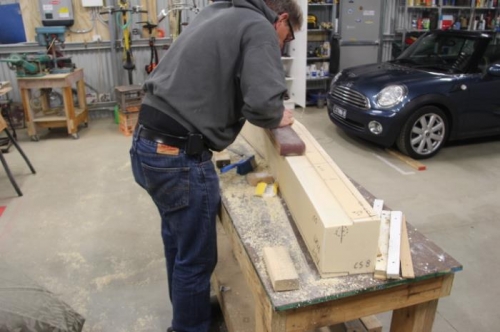 Finishing the bottom trough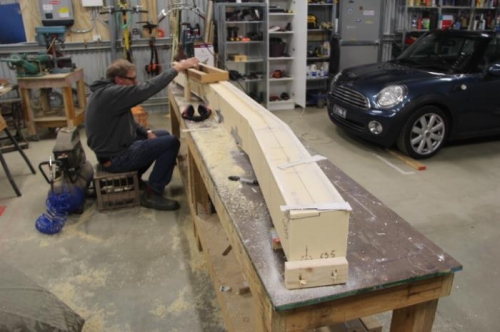 Cutting top troughs
Previous Builder
Next Builder