Previous Builder
Next Builder
Date: 04-18-2020

Number of Hours: 2.00

Short Description: Starboard strake leading edge and boo-boo


Trimmed and fiddled and trimmed again the leading edge. Decide the fuselage cutline needs to be more accurate, and notice I can do it really well with the laser again. Laser on the tripod, just brush the index marks on the ribs and project a healthy dot on the fuselage side. Discover I can attack this until most of the spot is on the instrument panel, leaving a thin line along the trim line. Do this 6" above WL.17.4 and 3" below, then fair it all in. It fits!

Trim it a bit more and discover the bottom surface overlaps the bottom skin by 2". Must have added up wrong at some point. Trim 1" off the leading edge bottom, and re-mark the form for the port side.

Give the starboard fuel strainer lip a bit of a trim and profile, and spot a frikken peel ply stil in place on the strake bottom, forward of bulkhead TTE! What an asshole. Spend half an hour digging it out from under a thick coating of resin. Curses!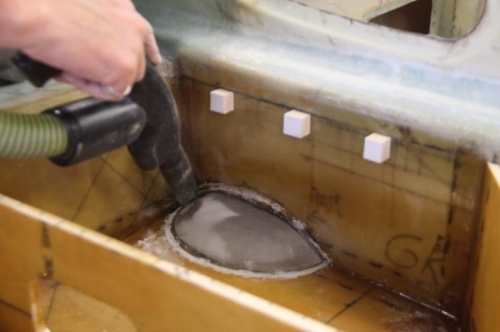 Trimming the lip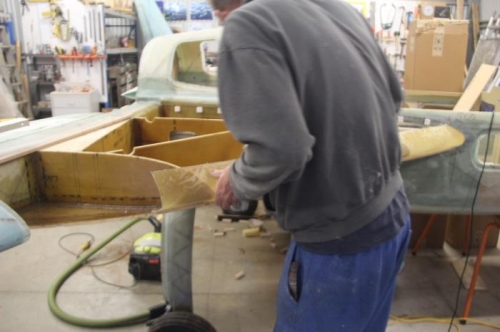 Trial fitting the leading edge inner skin. Looks a bit mouldy because the peel ply is still on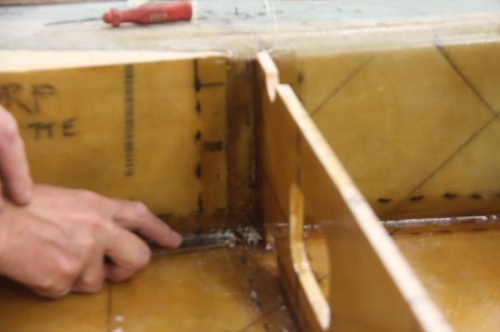 Removing errant peel ply
Previous Builder
Next Builder