Previous Builder
Next Builder
Date: 06-15-2018

Number of Hours: 2.00

Short Description: Basic Figgering for Front Hinged Canopy


Have had a copy of the Front Hinged Canopy plans for a while, and have not spent much time with them, my understanding of how to proceed for this or the plans version is limited.

Read through them both, Step by Step, and understand both a bit better now.

Was surprised to discover the Jig, and resulting canopy for the Cosy Classic (CC) is WIDER than the MK IV

CC has 10 jig frames, IV 5. CC wins, but lofting will be required

CC is jigged to the table, IV has 2 x 4 in corners. IV wins

CC has 12 notches for latticework, IV has 9. CC wins

CC has 3 close jigs aft, IV has 2 close jigs forward. Ummmm?

CC has flange turning inward, IV has flange turning outward. CC wins, was already planning this, now discover I have a plan somebody else has worked on to achieve it. Flange is laid up on table and taped to a jig board attached to frame AFTER rest of turtleback done. May even do a combination, inward forward and outward aft. Will think some more

CC has 3/8" flange, IV HAS 1/4". Ummmm?

Mocked up some FHC hardware and a canopy edge to get my head around the geometry and how to adapt currently available gas struts. CC plans want a strut 300mm long (extended length) with 100mm stroke. Using wood dowel cut to the extended length and marked with the stroke I found the standard yeilds a 11.5" gap between the canopy and the instrument panel. A 285/115 gives 12", and if mounted 1" aft gives 11.5" Anything longer won't come close.

Plans hinge geometry needs a 1/8" packing at front of canopy flange to be close to level.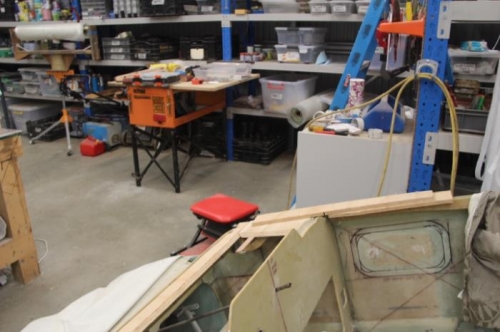 My FHC mockup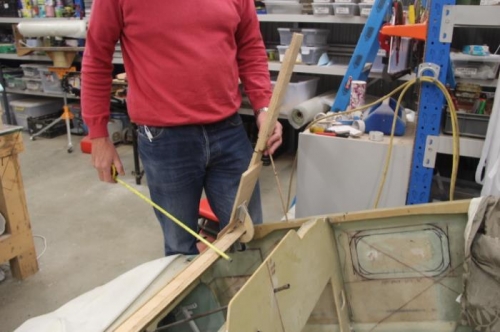 Plans FHC tilt at limit of strut
Previous Builder
Next Builder