Previous Builder
Next Builder
Date: 04-26-2020

Number of Hours: 8.00

Short Description: Spinner Installation


Finally got the spinner mounted. To begin, you need to find the center of the nose of the spinner. A quick search on the internet on how to do this came back with formulas that would make Einstein scratch his head. What I ended up doing, with the spinner on a flat surface, was stack some washers on the nose of the cone. I then measured the distance from the bottom of the cone to the washers all the way around. Once I had a consistent measurement all around, I marked a spot in the little opening of the top washer. Once I had this marked, with the prop already on the plane, I clamped the spinner in place. I then took a ladder and with a pencil clamped to it, placed the point of the pencil right in front of my mark on the cone. If the spinner is in perfect alignment, the mark on the cone will remain in position through a full 360 degree rotation. The prop is sandwiched between two plates. These plates are what the spinner is mounted to. Fourteen evenly spaced screws are used on the rear plate and six screws on the front. Drilling the holes on the rear plate was straight forward. I had my holes marked on the rear side so I knew where to drill.
The front plate was a different story. With my spinner on, I had no way of seeing the front plate through the spinner. Hindsight, if I wouldn't have had my spinner primed yet, I would have been able to see the front plate through the cone. This is where I got creative. With a laser light clamped to a ladder nearby, I pointed it on my mark on the front plate. With the red dot positioned on the plate, I carefully positioned my spinner in place with clecos. The red dot clearly shows where I need to drill.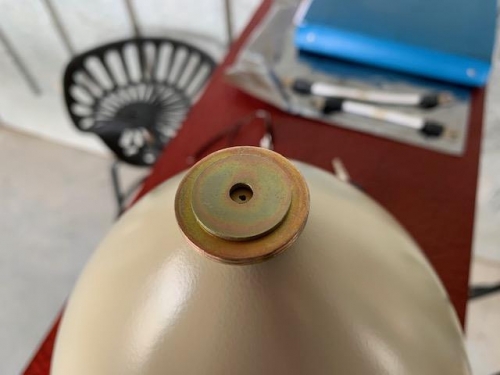 Finding the center.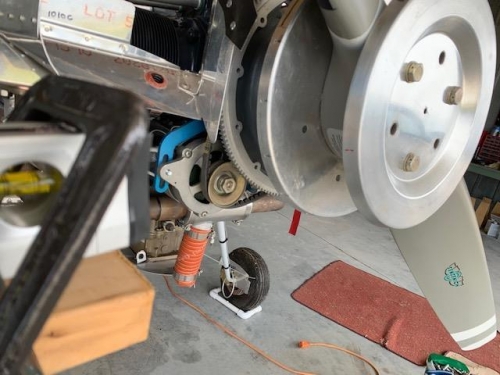 Red dot on my mark on the front plate.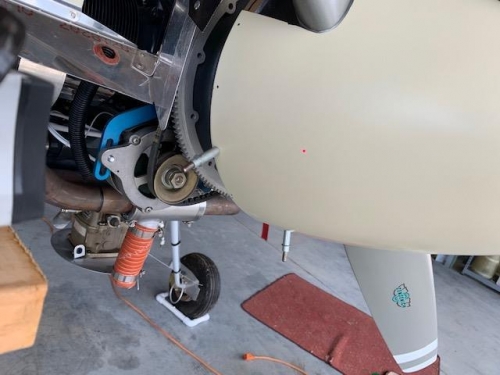 Red dot on the spinner shows where to drill.
Previous Builder
Next Builder