Previous Builder
Next Builder
Date: 10-10-2019

Number of Hours: 2.00

Short Description: Aux power supply install


The auxiliary power unit or ground power supply will be very useful during the electrical wiring phase as it will allow me to test the internal wiring, switches and appliances while I am installing and wiring them up. I am making it a permanent part of the airplane because I will also be able to use it in the future, after the airplane is finished, to do software updates, testing, etc. while not rely on battery power.

An important aspect of the electrical system is also the ground. Being an airplane made of metal, the airframe itself is a ground plane. But, in order for the ground plane to make good metal-to-metal contact, the top coat and primer paint must be removed, I determined the location of my 24 tab ground block and then drilled the mounting holes and marked the dimensions of the ground block. Using MEK, I removed the primer/top coat to get to the bare metal after taping off the section to be stripped.

Lastly, I cut the wires to length, stripped the insulation and crimped on the terminals and pull tested them. I installed a 30A fuse for the inbound positive feed and called it a day.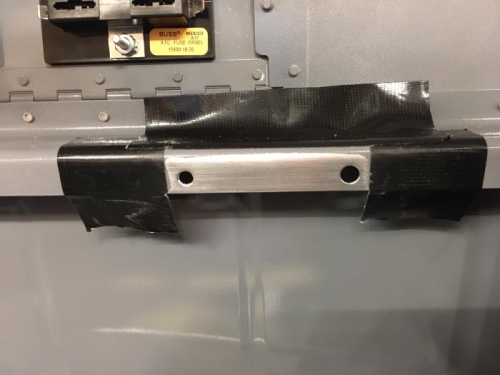 stripped to the bare metal
aux power installed
Previous Builder
Next Builder