Previous Builder
Next Builder
Date: 06-01-2019

Number of Hours: 4.50

Short Description: Baggage door assembly

Debured all of the part for the baggage door. Clecoed the parts together and match drilled the parts. Enlarged the tooling holes for the bushings for the push rod locks. Cut the hinge length and clamped to the rear of the door assembly. Drilled and clecoed the hinge into place.
Unclecoed all of the parts and deburred the match drilled holes. (I made a mistake and started counter sinking the 873A cover piece, when I should have dimpled/countersunk. I stayed with the countersinking and finished up the holes.)
Back rived the rear angle and the forward piece. Then cleoced the two ribs back into place and riveted the rib assembly together. Clecoed the inside cover piece and layed the door assembly into place. It will take a little sanding to fit the forward spacer on the firewall. Looks like I need to take off a 1/16"down by the motor mount.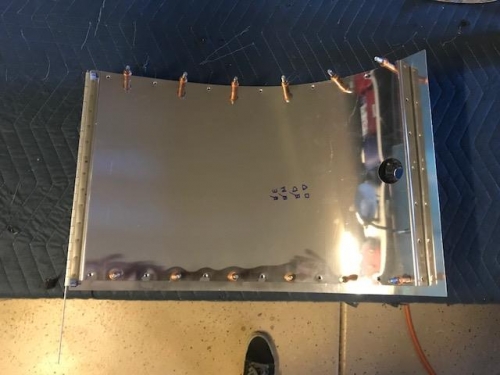 inside look at the baggage door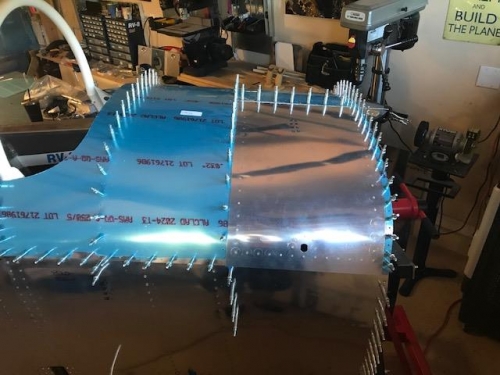 Baggage door laying inplace for fit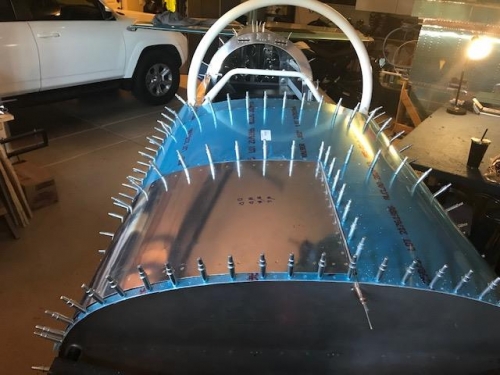 Baggage door laying in place. I still need to cut and bend the set pin on the hinge
Previous Builder
Next Builder