Previous Builder
Next Builder
Date: 02-09-2019

Number of Hours: 4.00

Short Description: Finishing the Tail


Progress continues, step by step. I'm waiting on some stainless steel braided hose for brake lines (I didn't like the plastic tubing that came with the kit) so I decided to finish up the tail. I ran the wires and connected the Ray Allen pitch trim servo, but I had to rig up an incredibly long drill to make a passage through the middle rib of the stabilizer from the end. Yes, I should have done this before I closed the stabilizer TWO YEARS ago, but the manual left me confused so I elected to wait until later... today was that later. I put together ever extension I own then tape a stiff rod to act as a splint to give it stiffness, and voila, it worked! I also hand crafted a stiffner on the bottom skin of the tail to support the GS/LOC antennae that would otherwise only be supported by the thin skin. You can just make out the V shape the antenna as it sweeps aft under the tail. Finally, I got all the little covers painted, drilled, rivnuted, and edge trimmed to I could get the tail all closed in, including the installation of the dorsal fin. The rudder cables were connected and adjusted, now the rudder moves with the pedals and steerable nose gear. Yay!

Now its really looking airplane ish!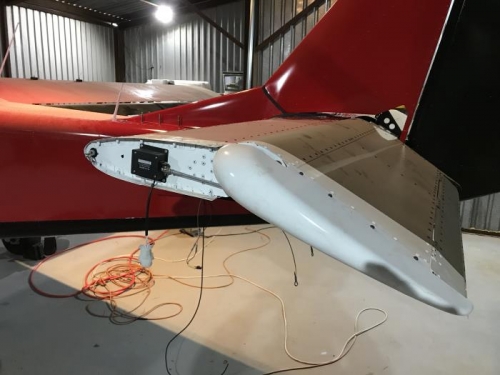 Electric pitch trim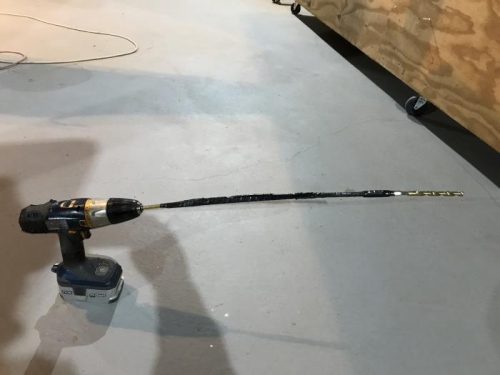 "Southern Engineering!"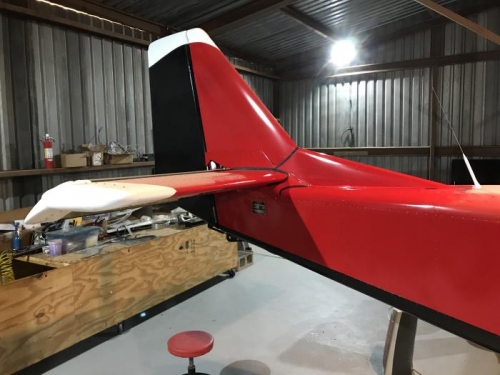 Finished tail
Previous Builder
Next Builder