Previous Builder
Next Builder
Date: 08-10-2019

Number of Hours: 15.00

Short Description: Debug G3X and correct minor issues


Two huge milestones this week. The interior is finished minus a few final details and the G3X system bugs were located and corrected. Everything is talking to everything else!

The details on the interior to be completed are pockets that will be attached by screws and Velcro and the IP top pad once I get the front top skin attached.

I have been waiting on the front top skin while I find time to debug communication issues with the G3X. It turns out I had two problems. Without the wing on termination of the CAN needed a jumper in the wing root connector to properly connect the 120 ohm resister in the Garmin supplied terminator (same as the jumper connecting at the servo). The second issue turned out to be a jumper I did install at the GTR20 remote com radio. It is/was to identify the GTR20 as com 2. I put it in because I have com 1 in the GTN650 Nav/Com/GPS. Turns out the jumper is only if you have 2 GTR20s installed. Took that out, now everything works and communicates.

Now I can put the front top skin on.
Note; It's not that I can't reach all of the wiring with the top skin on. It's just that it is sooooo much easier with the skin off.

I also fixed the door LED wire that was broken while covering the door with the finish cloth.
Corrected some set up issues on the VPX
Disassembled the panels for the final interior carpets, then reassembled all.
Modified the seat tracks to be able to remove front seats without removing the flap cover.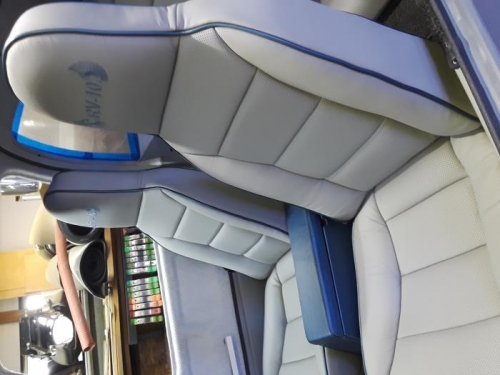 Seats complete and installed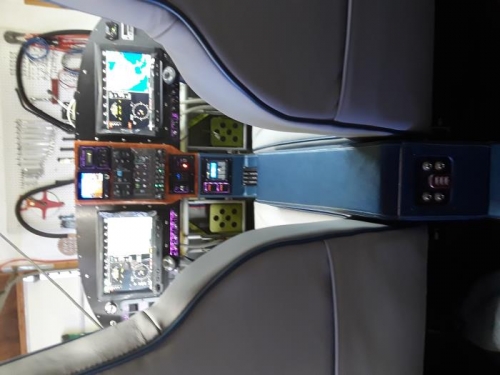 View from the back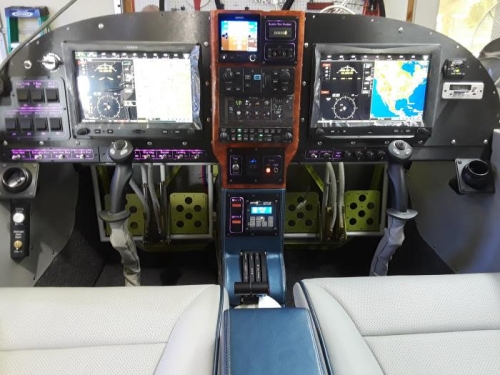 All lit up
Previous Builder
Next Builder