Previous Builder
Next Builder
Date: 02-07-2021

Number of Hours: 15.00

Short Description: Finishing Engine Mount


I built most of the engine mount about 10 years ago when I was trying to decide if I wanted to attempt a scratch built airplane. It was left unfinished pending engine selection. As I build the fuselage, I would like to have the finished mount as I build the mating structure to ensure fit.
I am currently thinking I may want to install a Lycoming IO-390 engine, and am fortunate enough to have a neighbor with a brand new one in his hangar for fit check. After measuring the fuel pump and other features, I think the support tubes as Dick layed them out will work. As a result, I fabricated tubes of that geometry and SLOWLY fit the puzzle together as shown in Image 1. After welding, all measurements and angles were checked. Turns out that one of the lower tubes has moved about 0.050 inward, and the dynafocal ring has one engine mounting interface that has moved about 0.043 aft. I will accommodate the ring move with a washer when I mount the engine, and the lower tube move will be accommodated in the build of the fuselage. Although I used a very ridged fixture, I did remove the mount from the fixture to weld a couple hard to reach joints. This may have allowed the warpage.
While on the subject of amateur welding an important structure like the engine mount, there are varied opinions on whether this should be attempted by someone who is not a certified aerospace welder. I certainly worry about how good is good enough (nothing is perfect,…not even on the military jets I worked on) While my welds are not perfect, I have had EAA advisors successfully review my work. I do worry about heat affected zone embrittlement internal stresses and other issues, but I plan to handle all building risks like this with conservative flight test envelope expansion and targeted inspection intervals. Also, I chose to paint rather than powder coat the mount to improve the ability to inspect and repair in the future. Enough worry on this...onward...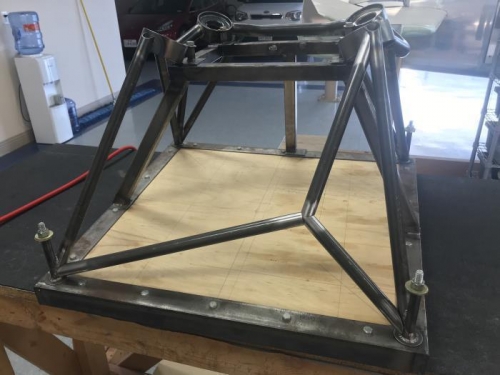 Lower tubes cut and fitted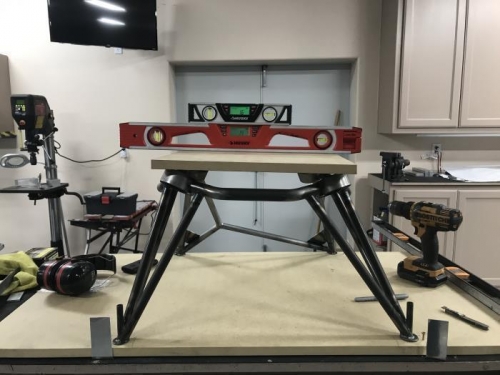 Welding complete. Checking all angles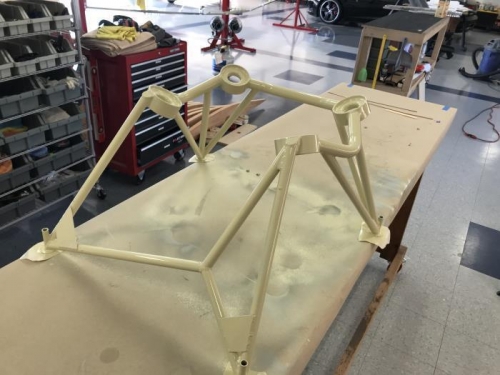 With final prime and paint
Previous Builder
Next Builder