Previous Builder
Next Builder
Date: 11-15-2022

Number of Hours: 0.45

Short Description: FIRST FLIGHT


The flight was uneventful, and the Rebel airframe did not demonstrate any unstable flight characteristics.

Video can be found following this link:
https://drive.google.com/file/d/1djYYb9Be47AJx44jvN8PVDZiELZpnSFV/view?usp=drive_web

The Corvair auto conversion (rated to ~110hp) pulled the aircraft through all maneuvers with power to spare, and all engine parameters stayed well within limits. Performance was similar to that of an O-235-equipped Rebel, with a takeoff roll of about 800 feet, and a climb rate of about 550 fpm at 57 kts IAS (that's with me and half tanks). Top speed wasn't explored on this flight, but this is not a speedster by any means.

Landing it on our 2400 ft runway was always the part of the flight I was most concerned about. After a couple of practice approaches at altitude, I tried my first one right down to the runway….I may have had my foot on the left brake at touchdown, because it veered off to the left abruptly and I immediately cranked in the throttle for a go-around. Second approach is the one in the video…picture perfect. All that time in Mike B's plane in May really paid off!


One of the most memorable aspects of this journey is my 'transition' from builder, to maintainer, to test pilot and engineer over the last 2 months. Your frame of reference pulls back....from working on a collection of parts, to working on a vehicle (ensuring that collection of parts integrate correctly), to flying that vehicle (testing that the collection of parts is performing correctly). The mental and emotional transitions in this process are fascinating, and will stay with me forever.

Without a doubt, this project will be one of the most significant accomplishments in my time on this planet.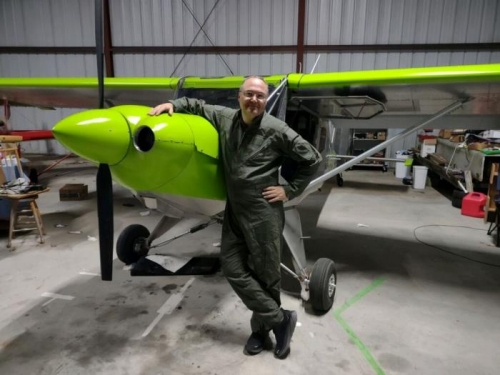 After First Flight
Previous Builder
Next Builder