Previous Builder
Next Builder
Date: 02-09-2020

Number of Hours: 2.80

Short Description: Canopy fairings and Horizontal Stab Caps


The fiberglass on the top of the canopy fairings cured well. The problem of removing them to fiberglass the bottom of the skirts was a bit more challenging doing it solo. I got them off using rubber bands to hold the sides up. It worked ok but not great. Prior to putting the canopy on I knew I had to get another "hand" to help me. Not having any real person around I devised the extra hand out of a bungee cord that I have. I hung it from the hoist in the basement. I hooked it on the rear part of the skirt to hold it while I got a cleco in each side.....it really worked great!

After laying the fglass on the bottom I carried it over to the airplane and hung it on the bungee. Then I placed the cleco's on each side. I lowered the back side into position and began to cleco the fairings in place. Once all was clecoed in place I checked the fit and made sure everything in place which is was.....now waiting to cure!

I mixed a batch of micro and laid some on the HS fairings to get them cured.

It seems in the fiberglass world it is planning to always have something curing and something else to do so work time is not lost while waiting for the cure cycle to continue.

Now I have several days of travel for work which will hamper building for a bit! I passed the 1400 hour mark....more to go!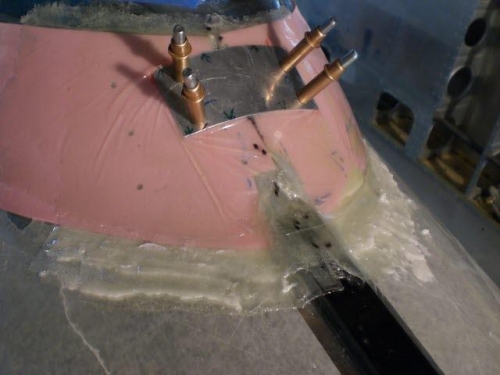 Fairings fglassed on bottom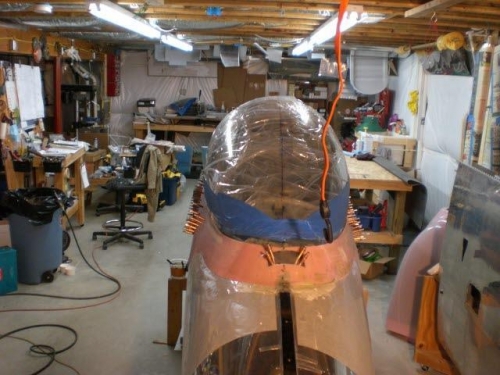 Fairings installed...red bungee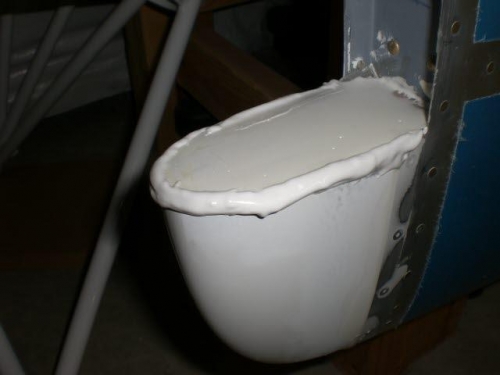 Micro on HS fairings
Previous Builder
Next Builder