Date: 03-11-2023

Number of Hours: 6.50

Short Description: Work on Wheel Fairings


Rob texted me on Friday while on his way home from NYC via train! He says it is more convenient way to travel between DC and NYC than the airlines. Anyway he asked if I wanted some assistance on the project Saturday......I responded with a big yes!

Since I am working on the windscreen and it is pretty much a one man job....we chatted a moment and decided the wheel fairings would be the item to work on.

We got the fairings and the plans out and started to devise the methodology to get the fairings in place and on the way to completion. We worked the front and back halves of the fairings to our satisfaction then marked them for left and right sides. The wheel pants come with scribed lines and we used them to get our rough cuts done. We then marked and drilled the positions where the future nutplates would be installed......either way if the holes needed to be moved it is easy in fglass. After marking the holes we drilled and clecoed the halves together.

Next we worked the tire cutouts with a lot of talking and hashing out the best approach and slowly working our way to getting the tire cutouts where we wanted them.

By the end of the session we have a very ballpark position of the wheel pants on the gear with 1 inch spacers holding the pants up off the tire as per Vans plans. Rob and I worked well together in getting them to this point....with Rob's experience it was a great help to see this part of the project really take shape.

Thanks a bunch Rob!!!!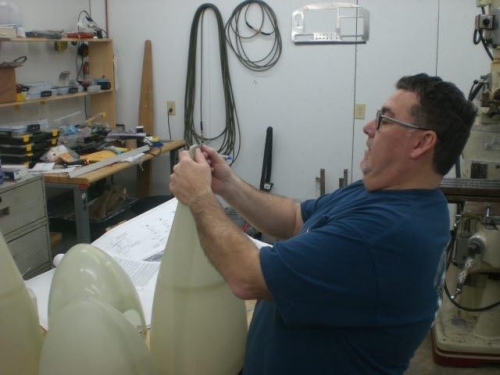 Rob working on center lines
Marking tire hole cut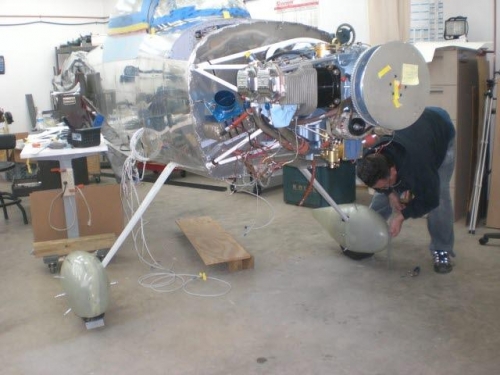 Fairings cut and in place with spacer