Date: 10-18-2020

Number of Hours: 1.50

Short Description: Rheostat Mount

I started walking around the left and right side of the fuse and trying to find a good place to mount the rheostat main module. The module has the electronics that feeds the rheostat controls through a D-sub connector to run the light dimming.

It is a solid state unit and it is a bit big. So I finally settled on mounting it under the TCW battery using the mounting bracket in the rear and making a support bracket for the front that would hang off the baggage area rear member.

I was able to grab a scrap piece of 1/16th angle for mounting on the rear mount.....and using a one inch piece of 1/16th aluminum sheet I formed a bracket for holding the front portion of the module.

The rear has two locations for screw hold downs.......the front has only one so that worked out good. Got the project started and will continue next session.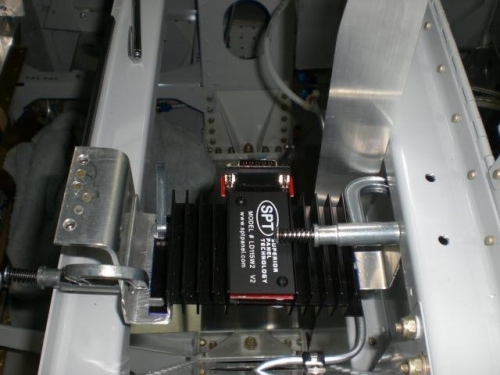 Rheostat "brains" module