Date: 07-15-2018

Number of Hours: 6.30

Short Description: Paint seats and misc parts #2


Long work session today. I started off early setting up a table to wash off the sanded parts with Eco-clean and wipe them off with isopropyl alcohol. The fuse was still sitting in the shop where I painted it and I considered moving it outside to shoot the small area on the gear tower. There was a high thin overcast today and after consideration I decided to set up outside to paint the panels.

I have a 14' 2x4 with nails on the edge that I set up between two ladders for my outside painting. I then go in and out the basement door to hang the parts in the climate controlled environment to dry.

The process for Stewarts System topcoat is to paint the parts in three coats. The first coat is a light"fog"coat that gets paint to the surface tacky. Then the paint gun nozzle is turned 90 degrees and painted again. The reason to turn it 90 degrees is that the color pigment lays in different directions and the color saturates better if painted in both directions. Then the final coat is the finish coat the the paint gun nozzle is again turned 90 degrees and the final coat applied.

The flow rod for the paint gun is set at 3/4 open for the first coat, and it turns an additional 1/8 turn for the second and final coat so the final coat is done at one full turn on the metering rod.

Stewart Systems is a good paint and system. Clean up with the water based epoxy is easy. As a novice painter.....I have much more that I can improve........

Finally, after the day of painting I decided to get the fuse back in the basement. A lot of aviation friends I reached out to were in traveling mode. I didn't want to use my garden cart again, but asked my wonderful wife Kathryn if she felt up to the task.....she said yes....so here we go. We made a few changes on the process, but it worked better than the first move....thank you honey!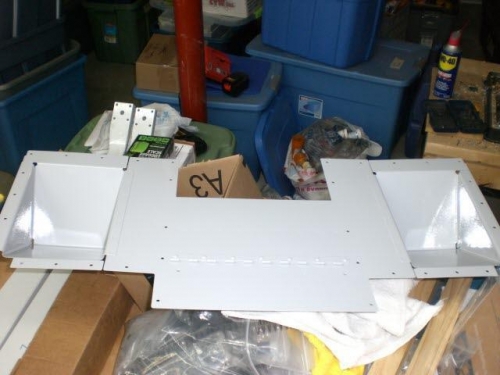 Painted misc panels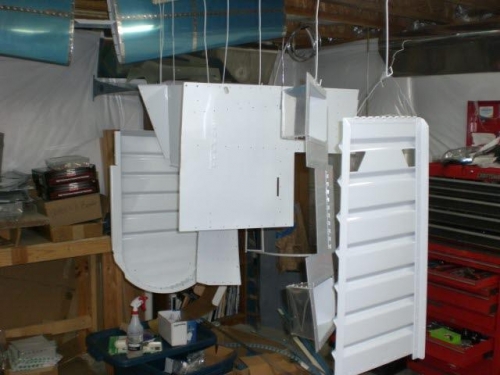 All painted and drying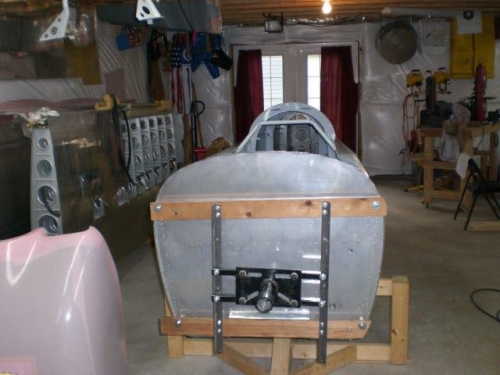 Moved fuse back in basement