Date: 10-17-2021

Number of Hours: 5.00

Short Description: Prep for landing gear removal

Raised the tail and supported it with a saw horse under the tail spring.

Used an engine hoist with a lifting strap around the engine mount to lift the fuselage off of the main landing gear. Slid a saw horse under the fuselage spar carry through. Lowered the fuselage onto the saw horse and found that the airplane wanted to tip forward so that the tail was lifted off of the aft saw horse. Used two 60 pound bags of concrete mix in a plastic tub and two ratch straps around the tub and tailspring to keep the tail down on the sawhorse.

Draiined the brake fluid from the brake calipers and gear legs.

Removed the upper intersection fairings and gear leg covers.

Opened up the holes in the lower empenage fairings to #28 and then deburred and dimpled the holes. Deburred the fairings.

Riveted the valve stem access doors to the aft wheel fairing halves with soft rivets.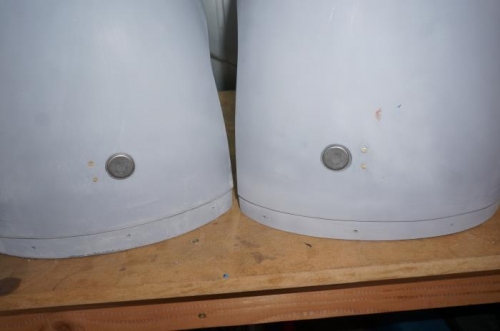 Tire stem access doors riveted to wheel pants