Date: 10-17-2021

Number of Hours: 3.00

Short Description: Finish throttle cable, start mixture cable


I was not happy with the feel of the throttle cables after installing yesterday. Because the cables were placed in the lower hole of the throttle arm on the carb, they were binding just a bit when closing (pulling) the throttle handle.

Removed the cotter pin and castle nut from the throttle linkage and loosened it just enough to allow insertion of a new bolt on which the cable rod end bearings mount. Titghtened it all up and proceeded.

Mixture cable sounds easy but due to tight fittings it is a challenge.

I read somewhere that you're not supposed to pull out the mixture cable too far or else a tiny ball bearing will fall out of the handle assembly, yet everything I read said I had to pull the cable out to trim the overall length. Yup; the ball bearing fell out. I found it and secured it for the time being.

The builder guide says that the inner cable is secured to the mixture control arm by following the order of: mixture arm, washer, inner cable thru the hold in the bolt, 2nd washer, nut. Afteri dinking around with it for quite awhile I thought there wasn't enough room between the 2 washers, so I dug out a think "L" washer and tried again. Nope, still not enough room. I left out the top washer and was able to finally thread the inner cable thru the hole in the bot. Left loose for now. Used adel clamps on the intake tube to secure the cable housing. Got the nuts threaded, but left it loose for final setting of the adjustment.

Dug out the exhaust; I wanted to mount the right side to ensure there was no interference with the mixture cable routing. Took a bit to figure out which manifold went to which side of the engine. Removed it to allow drillng for the EGT probe.

Replaced the silica crystals so I could bake the old material as it was starting to turn purple, signifying some moisture might be getting in.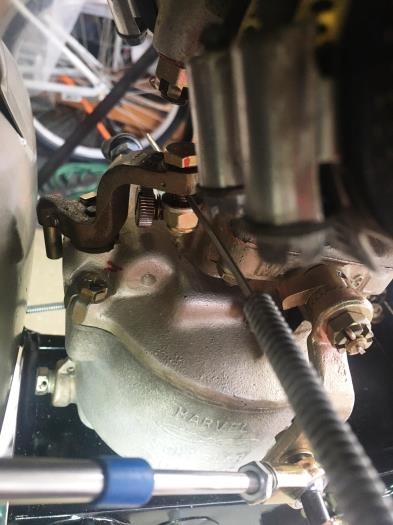 mixture threaded thru locknut
standoffs for mixture cable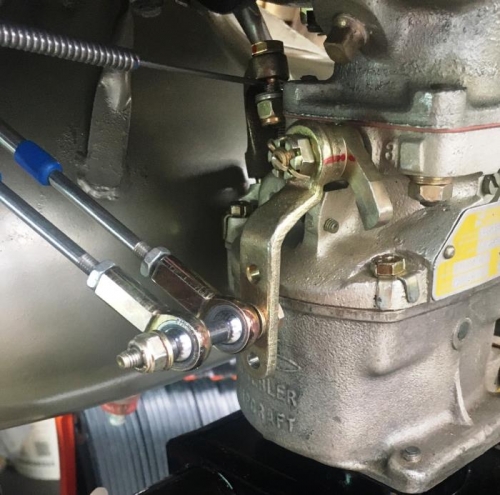 repositioned throttle cable