Previous Builder
Next Builder
Date: 09-03-2018

Number of Hours: 4.00

Short Description: Match Drill Holes C/T Tip Rib & RS, Cut TE to Size


The E-921 gussets got match drilled to the rear spar and the inboard closeout rib. It's a tight location to work in and I made the mistake of drilling the gusset by itself. Don't do that! The holes in the spar and closeout rib are #40 and you have to match drill to #30 holes. It's very important to get everything lined up with lots of clecos first and then pull out one to drill the hole. Get clecos all around the area to make sure everything lines up as best you can. Fortunately, I bought a couple of extra E-921 gussets when I got the rudder parts so I just used one of them.

The E-1022 shear clip also gets final drilled C/T the closeout rib. This is an easy open area. No issues here.

The trailing edge reverse wedge was trimmed to final length for the left and right elevators. Where the wedge meets the fiberglass tips it needs to have the surface profiled down to match the contour of the tip. I left the profiling task for another day.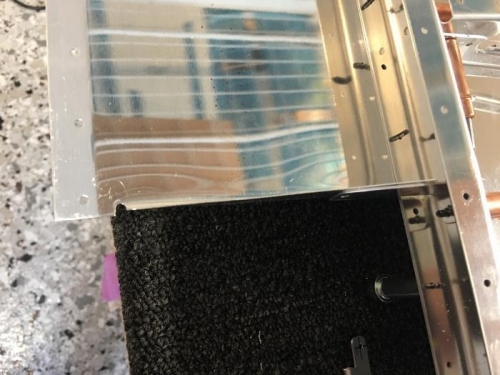 Bent tab on lower skin lines up perfectly with E-1022 shear clip. I bent it right this time.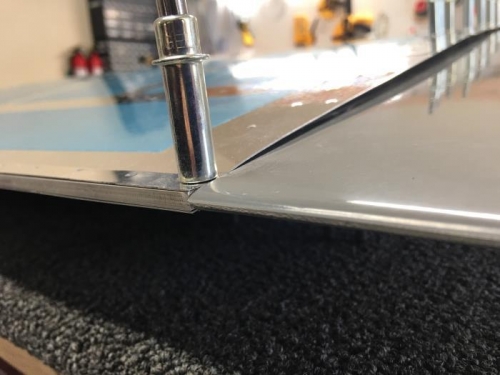 The TE needs to be blended to match the shape of the fiberglass wingtip.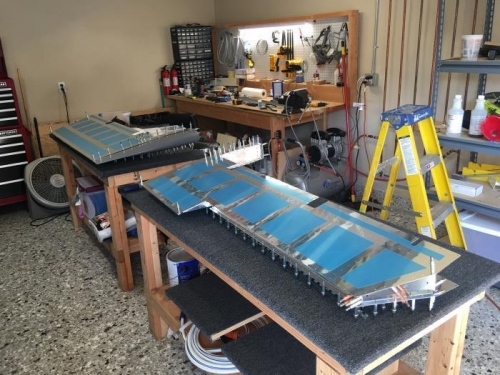 Both assemblies together. Priming my components is a couple of weeks away.
Previous Builder
Next Builder