Previous Builder
Next Builder
Date: 12-24-2017

Number of Hours: 3.00

Short Description: Finish deburring stiffeners and other rudder parts


I'm quickly finding out how tedious and repetitive trimming and deburring parts can be. The stiffeners alone took about three hours over a couple of sessions, but I'm pretty happy with the results. Hey, I'm slow. I'll get faster as I gain experience.

I also trimmed the R-00910 horn brace. Unfortunately, I didn't notice the flange was also in contact with the belt sander and it started removing metal. This is a 0.040 in. thick part, so there's not much margin for error here. I measured the thickness right at the hole and fortunately it's 0.038 in. At the radius edge it goes down to 0.030 in. thick, but it's really what's at the bearing surface that counts. The edge margin (distance from center of hole to edge) to the radius is 0.300, which gives me 0.300/0.125 = 2.4D which is more than enough.

I go find my lucky stress analysis hat (made of tin foil BTW - hey it keeps the aliens from interrupting my train of thought ok?) and determine I've only lost about 5% bearing capability. This part is acceptable as is. Having a day job doing structural repairs on transport catagory aircraft sure does come in handy for these situations.

Per the plans I put a radius on all the corners on the R-405PD rudder horn.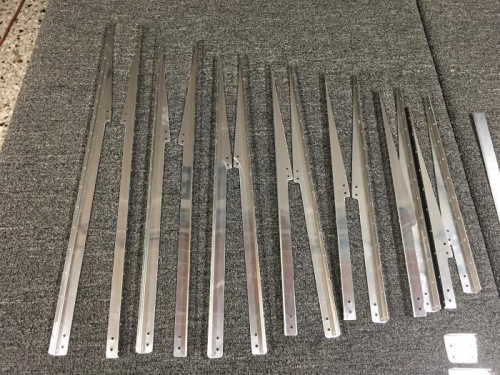 All stiffeners trimmed and edges deburred.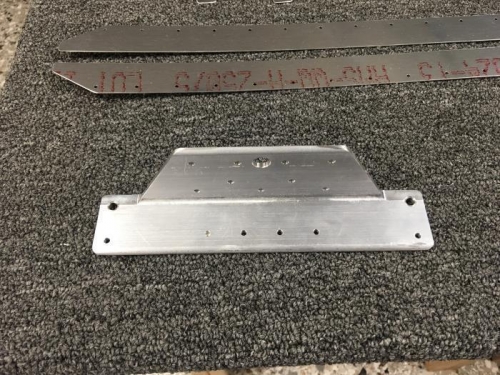 R-405PD needed a radius on all the corners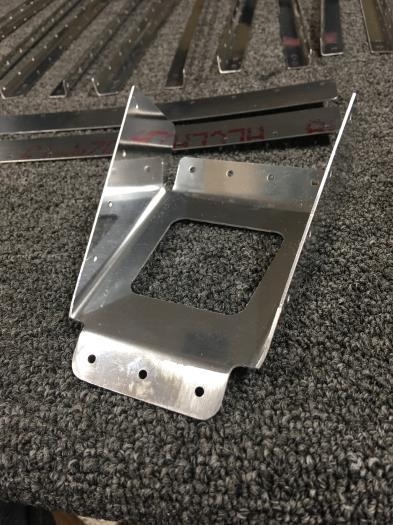 Whoops! Not paying enough attention to what's being ground away on the belt sander.
Previous Builder
Next Builder