Date: 10-15-2017

Number of Hours: 0.00

Short Description: Building a compressed air dryer


The only time I'll really need dry air is when I spray primer on my parts. The other air driven tools like the drill or rivet gun don't care much if the air has a bit of moisture in it, But moisture in the air while priming or painting will leave "fisheyes" in the finish.

I looked at the various methods for air drying and being a frugal type I went with simple and cheap. Running the compressed air through a series of vertical copper tubes will cool the air below the dewpoint temperature. Gravity takes over and the condensed water accumulates above the ball valves. You open the valves occasionally to clear the water out of the pipes.

I sketched up a four drop leg design and from that figured out my BOM. The toughest part for me was figuring out how to connect the air lines to the pipes. A little help from the Home Depot folks and I had everything I needed. For the record, you need the air hose fitting, a brass 1/4" FIP to 3/8" FIP adapter, then a copper 3/8" MIP to 1/2" tube (solder) fitting. Total material cost including a propane torch, solder and flux was around $200.

My friend Jay came over to help build it. The drop legs were about 6 ft. and the horizontal tubes are 5 in. each. I cut the tubes above the ball valves to 12 in. which should be enough resevoir for the condensed water.

Soldering was pretty straightforward. Neither Jay or I had done it before, so off to YouTube to get edumacated! I soldered up an elbow to a couple of extra pieces of tube then cut it open to check out the solder coverage. It was pretty well covered, so we started on the real thing. Ball valves require a bit extra care to avoid damaging the seals. A wet rag is wrapped around the valve body and care is taken to direct the flame at the solder cup and not the body.

We finished everything and then came the moment of truth. The compressed air was hooked up and we checked carefully for leaks. It looks like we did a good soldering job! No leaks at all.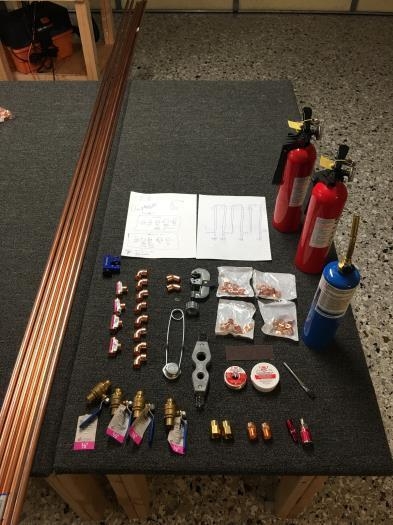 Everything you need to build a simple air dryer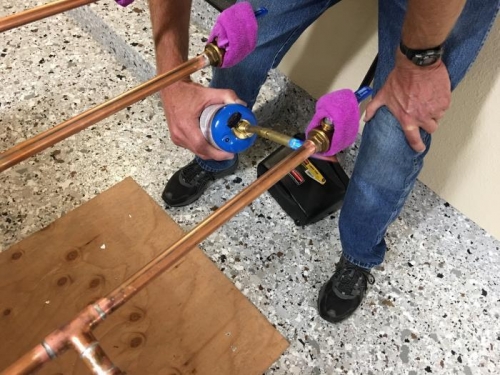 Heating a ball valve prior to soldering. The moist rag helps protect the ball valve seals from heat.