Previous Builder
Next Builder
Date: 02-17-2018

Number of Hours: 5.50

Short Description: Fabricating covers for access cutouts


Still a bit chilly to work with plastic again, so I started the task of fabricating covers for the wing access cutouts. Passenger side first. Cut out a cover using scrap obtained from my 1st rudder that I wasn't satisfied with. Got it shaped to fit well and added holes for nutplates in cover and wing trailing edge, being careful not to drill into anywhere a drill shouldn't go. Used a dimpling tool on the holes for the A3 nutplate rivets so the panel will sit flat on the rivets. Attached the nutplates and riveted. Seemed to work out well.

Started repeating the process on the pilot side, but only got as far as attaching the nutplates reversed with screw preparing to drill A3 rivet holes.

In case you are wondering why the access is so long, it is because I had to replace the rear spar doubler with a longer one to have enough material to drill the rear spar mounting hole and needed access to the length of the doubler.

Installing nutplates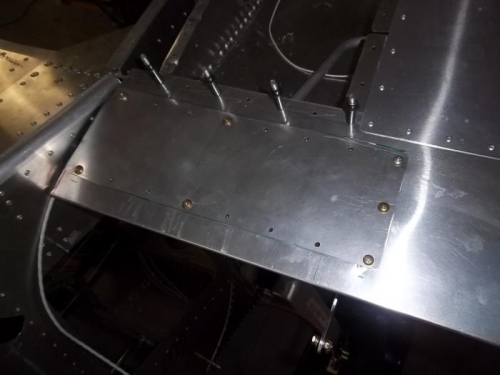 Passenger side cover partially attached
Previous Builder
Next Builder