Previous Builder
Next Builder
Date: 02-23-2019

Number of Hours: 4.00

Short Description: Special Airworthiness Inspection


The local DAR came out and did the special airworthiness inspection today. He did find a few small items that he suggested I take care of, but overall said I did a really good job. I expected he would have some reccommendations and would not have been confident in the quality of the inspection if he hadn't. He asked a lot of questions. He was impressed with how all the wiring and plumbing was secured and everything was labelled. He said I might try to get a bit of the slop out of the flapperon controls, which I can do easily and put a bit more tension in the alternator belt, which is also a simple adjustment. There were a few other nits, but nothing major. I came away with the special airworthiness certificate and operating limitations. My test area is a 25mile radius around the Lost Bridge Village airport, 40AR, which is just up the hill from home. That will keep me out of Razorback Class C, but let me into Rogers (KROG) where I will get a hangar.

Although it is now airworthy, it will stay in the shop until I get myself ready for flight again.

Today, I am a happy camper!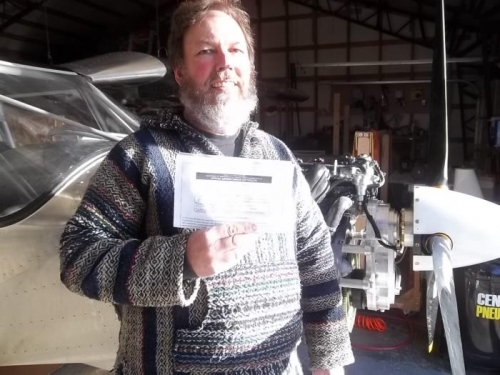 Yay!
Previous Builder
Next Builder