Previous Builder
Next Builder
Date: 09-15-2017

Number of Hours: 0.00

Short Description: Test Flight #6


Flight Test #6 was completed today. The purpose of this flight was to test the effect of a rudder trim block, further the leaning tests started in the previous test flight, and ease into testing with a mixture of avgas and 100LL.

A temporary trim block made from foam covered with aluminum tape with a length of 5", a vertical height of 4", and a maximum thickness of ¾" was temporarily mounted near the bottom of the rudder on the left side. It turned out to be the perfect solution; the ball was perfectly centered at cruise speed. Now that I know how big it needs to be, I'll fabricate an aluminum version when I have time.

After figuring out how to use the EFIS leaning function, tests were completed at several leaning levels, ranging from 100-degrees ROP to about 50-degrees ROP, with 80-degrees ROP shown in Image #3. At 50 to 60 degrees ROP, the fuel flow at ~ 70% power was 5.5 gph, yielding a steady 150 mph T.A.S.

All of the leaning testing was conducted from the left fuel tank with a 50/50 blend of 100LL and 93 octane premium auto fuel. The engine ran beautifully and the numbers all look good. The right tank is loaded with 100LL for takeoff and landing.

This was also the first flight with the autopilot in the ENAV mode, following a flight plan. The lateral gain needs to be adjusted slightly to minimize heading overshoot, but otherwise it works very well. I have a lot to learn about optimizing its use.


Rudder Trim Block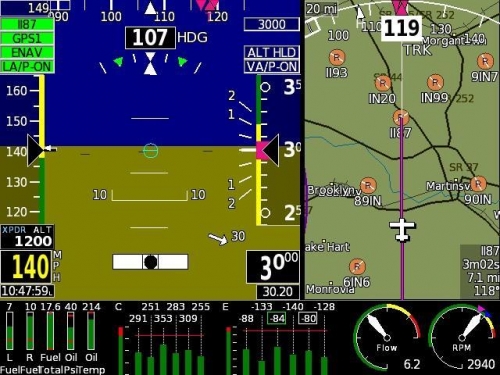 Test Flight #6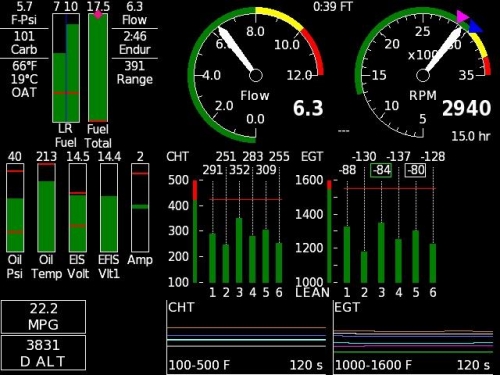 About 80° LOP
Previous Builder
Next Builder