Date: 01-15-2020

Number of Hours: 0.00

Short Description: Cabin Heat 2.0 Pg 3 of 3


More photos...

The round cover in the first photo is one I had from my previous heater iteration. I had different covers with different sized holes in the middle. This time I'm trying to pivot the cover up/down to expose more or less of the exit hole in the baffle. Whe I get something that works (I hope) I will measure the area of the opening then make a new permanent cover with an equivalently sized round hole in the middle. That way the cover can be secured with 2 screws.

As of January 4, 2020 I have not flown it yet. I'll update this page when I do.

January 7:
I flew what you see in photo #1, and it didn't do much. With a laser thermometer the flapper was at 32 deg on the ground, and 57-62 deg in the air. Not much heat at all. I could barely feel it on my hand. I'll try some lesser and greater openings at the baffle.

January 15:
I tried the heater today with a larger INLET size per photo #2. I actually got between 87 deg and 95 deg coming out the cabin inlet. I thought the excess air velocity would do the opposite. Even taxiing I got 76 deg. OAT on the ground was about 48 deg. At 3,000' it was around 41 deg.

I'm going to try again with the inlet hole open the full 2" and see what happens. After that I'll try reducing some of the muff's restrictor, to see if holding the air longer in the muff will do anything different.

I'm trying to alter only one thing at a time for each test. In the end it may be a mix of inlet and outlet.

I don't have much in the cockpit to stop air from moving around, so I'm now looking at making a simple closure to close off the back of the airplane behind the baggage area.


Hole in baffle to supply air to the muff.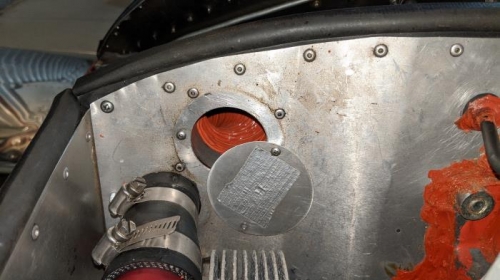 Inlet size try #2