Previous Builder
Next Builder
Date: 11-27-2019

Number of Hours: 3.00

Short Description: Rudder Cables Re-attach


During my TC inspection, it was discovered that both rudder cables were inappropriately attached to the rudder pedals using self-locking nuts instead of castle nuts with cotter pins. I suspect I did this as a temporary measure a couple of years ago when I initially ran the rudder cables back through the tail. Note to self: There are no temporary measures - do it right first time and every time.

The task was lengthy for a couple of reasons. First, to gain access to the rudder pedals, I hade to remove the instrument panel cover (36 screws). Second, because of the position of the rudder cable attach points near the floor, near the center, I was only able to reach them with one hand at a time! Removing and tightening the bolts and nuts was okay with the arms of the socket wrenches helping with the last few inches of reach. However, inserting the bolts, with their washers and then starting the castel nuts on using only one hand was a real lesson in patience. They're fixed now and good to go!


Both rudder cables shown from the left (pilot's) side with the wrong nuts.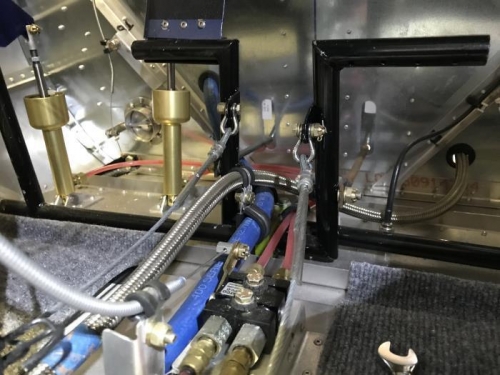 Both rudder cables shown with right side cable correctly attached using cottered castle nut.
Previous Builder
Next Builder