Previous Builder
Next Builder
Date: 05-22-2019

Number of Hours: 4.00

Short Description: Elevator Control Cables: Part 1


Started the day by checking rudder cable tension. No overnight stretch which is a good thing. Disconnected both rudder cables to make them slack for room through the belly access hatch for eventual aileron cable safety wiring.

Began work on the elevator cables. Initially I spent some time figuring out how to lock the elevator in neutral. Easy to do with a couple of bar clamps. Next I worked on the elevator cable connections in the cockpit. To do this I needed to remove the stick from the aileron torque tube. With the stick removed I was able to access the up-elevator cable attach point way down at the bottom of the torque tube channel. Luckily, I left ample slack in my control hangrip wire bundle which allowed me to pull the stick all the way out of the channel.

At this point, I built up the cable attachment for the up-elevator shackle which attaches to the stick. Three swages later and I attached the cable to the lower end of the stick (Image 2). Next, I finalized the down-elevator turnbuckle by tightening the shackle assembly and adding a cauter pin to it. I reinstalled the stick back onto the airleron torque tube, a somewhat challenging process involving a bushing, a bolt, a washer, and a nut in a tiny space. Cockpit end complete.

In the aft end, I decided to cut the cable of the up-elevator turnbuckle to take up the cable slack at the turnbuckle instead of trying to do this from the control stick where the stick wasn't even attached while connecting the cable. Temporarily attached the shortened cable to the up-elevator turnbuckle using a cable clamp and briefly installed the saddle to make sure there was ample clearance for the turnbuckle. Looks good, so I called it a day.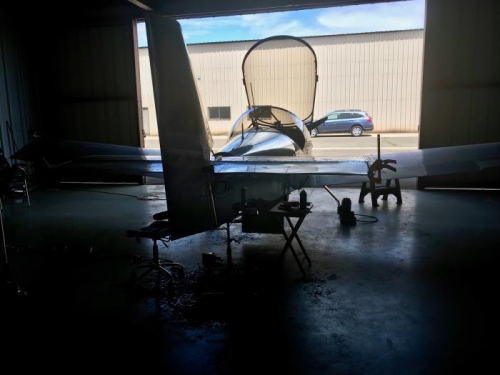 Figured out a way to keep the elevator centered for cable tensioning.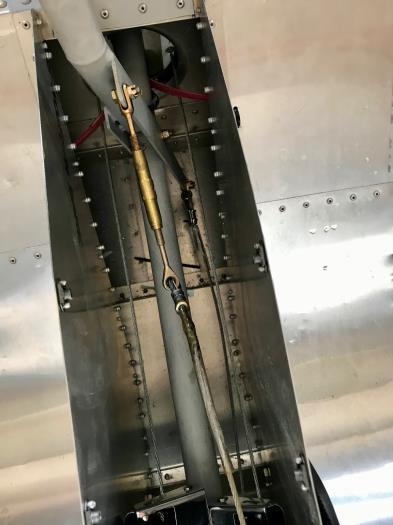 Installed both elevator cables on the stick.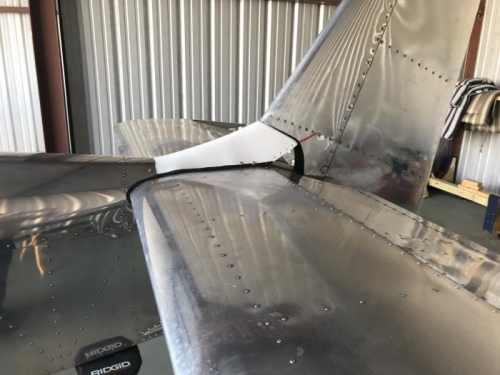 Testing the saddle to ensure ample clearance for the up elevator turnbuckle.
Previous Builder
Next Builder