Previous Builder
Next Builder
Date: 06-06-2018

Number of Hours: 4.00

Short Description: Elevator Trim Wire Bundle Secure 1


Spent much of the day trying to solve the challenge of securing the elevator trim wire bundle from just forward of the horizontal tail through the forward horizontal tail frame. In image 1, you can see how small the work area is in that part of the plane and yes, I did try to work my way back there after carfully padding the fuselage floor to protect me and the cross ribs on the floor. No go - I can't get close enough to drill a hole and set a cable tie.

After wasting nearly two hours I finally hit on the idea to reposition the wire bundle and secure it on the top of the tail with a cable tie mount. With the wire repositioned, I can route it over to the upper longeron without touching the edges of the lightening hole. To be continued.

In another small task that I've been putting off, I ground down a fender washer that fits the AN5 bolts that connect the aileron horns (where the controls connect to each aileron) to the rod end that pushes/pulls the aileron where it exits the wing. The full sized fender washer was too big for the space between the aileron and the wing, so I ground two of them down to a smaller size that fits in the space while still protecting against rod end failure.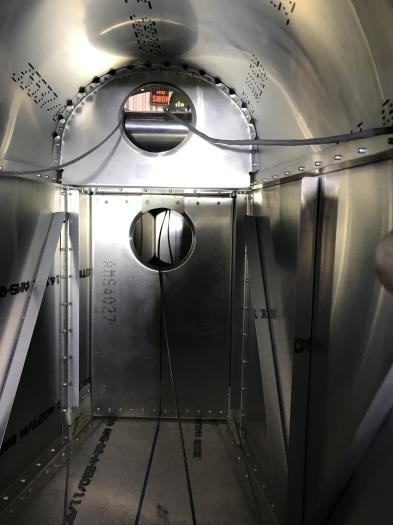 Elevator trim wiring feeding in from horizontal tail with no support.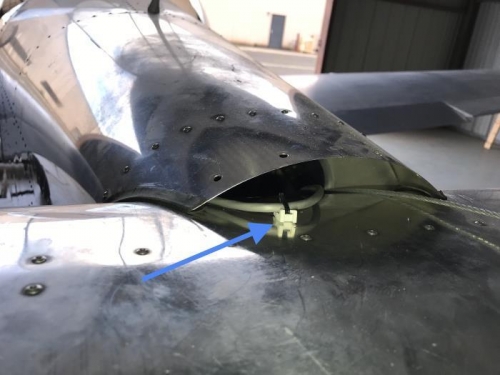 Cable tie mount added to horizontal tail (under saddle) to feed wire through lightening hole.
Re-sized fender washer to fit the aileron rod ends without interference.
Previous Builder
Next Builder