Previous Builder
Next Builder
Date: 11-19-2020

Number of Hours: 4.00

Short Description: Replace Forward Right Brake Line


On my 13th test flight, the right brake failed as I was turning to align my airplane for backing into the hangar. Inspection revealed air in the brake line, so I bled the brakes and they seemed fine afterward and worked fine on the14th test flight (no sharp right turns using brakes, coincidentally). On the 15th test flight, the same thing happened - right brake failure while turning sharply to the right. This time I inspected the line with the nosewheel turned fully to the right and found a flange in the floor structure was impinging on the break line when the right rudder was fully deflected. This time, it actually nicked the brake line.

The cause? In my construction, I installed the rudder pedals about 2 inches forward of the design position to account for my height, but my only concern was whether or not the rudder pedals hit the firewall before full deflection - the brake lines weren't even a consideration.

So today, I removed the nicked line (back to the parking break, about 18 inches worth), filed a groove into the flange to give the brake line clearance when fully deflected, then replaced the brake line, and re-bled the brakes. No brake problems at all during the 16th test flight even after multiple full deflections.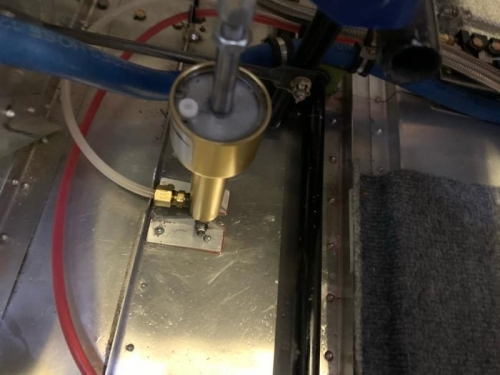 Newly installed brake line before bleeding.
Previous Builder
Next Builder