Previous Builder
Next Builder
Date: 09-18-2018

Number of Hours: 3.00

Short Description: OAT Probe Wiring + Misc


With the elevator trim wire bundle in place, I switched my attention to running the Outside Air Temperature (OAT) probe wiring. I had previously installed the OAT probe aft of the belly access panel, but delayed wiring it until I had settled on the wire routing for other items. For the OAT probe, the wires are anchored to the cross L-angle using cable mounts to the fuselage side wall. From there the wires run up the fuselage side wall along on the the diagonals where they join up with the elevator trim motor wire bundle. The wires continue forward and join into the ADAHRS wire bundle loop and continue out of the loop down another sidewall diagonal to the ADAHRS.

I also finished off the flap motor installation by checking all the bolt torques in the actuator arm and torque tube and hitting them with some torque seal. Lastly, I tightened and cottered the bolt where the flap motor attaches behind the pilot's seat.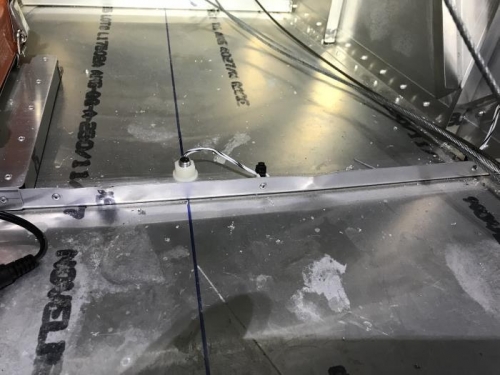 From the aircraft center aft of access across L-angle to diagonal...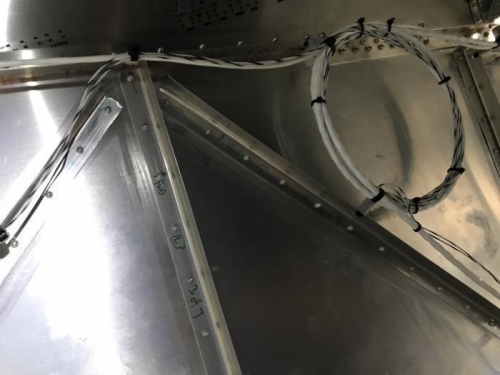 ...up the diagonal to the elevator trim cable...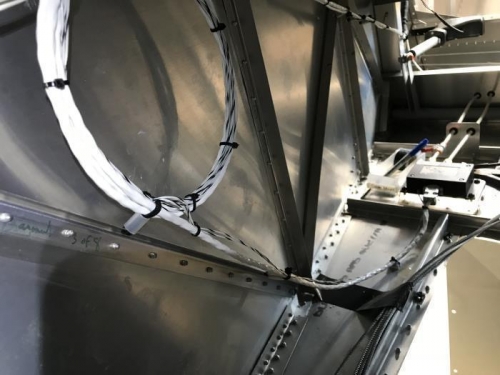 ...into the ADAHRS network cable loop to the ADAHRS.
Previous Builder
Next Builder