Previous Builder
Next Builder
Date: 06-17-2017

Number of Hours: 2.00

Short Description: Tail Section Integration 4


Continued work on the saddle by adding an aluminum strip to the leading edge where nut plates can be installed. Having previously marked where the screws will match up with the saddle's leading edge, I marked a rivet line along the leading edge that avoids the nut plate locations. I then drilled out the saddle and used that to match-drill the metal strip. I then attached the metal strip using 6 A5 (5/32") rivets. I then re-marked the screw holes by match-drilling the strip with the already drilled screw holes in the fuselage rear top skin where the saddle tucks in. A quick check of fit shows it all went together fine so the next step will be installing the 4 nut plates (plus 4 more in the L-angles on top of the horizontal tail) and cleaning up all the sharpie marks on the saddle.

During the fittings for the leading edge, I took advantage of the various times I removed the saddle to trim the rudder skin a little more. It's pretty much finished now and will require some smoothing when I remove the rudder to prep for final assembly.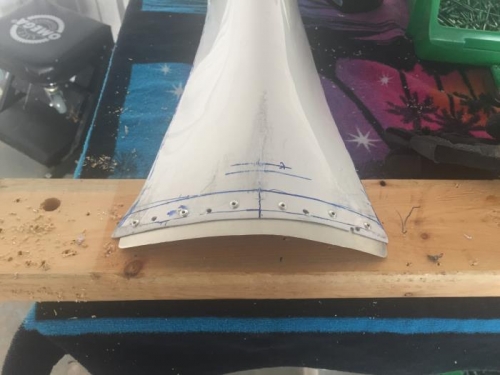 Saddle with added metal strip on the leading edge (for nut plates).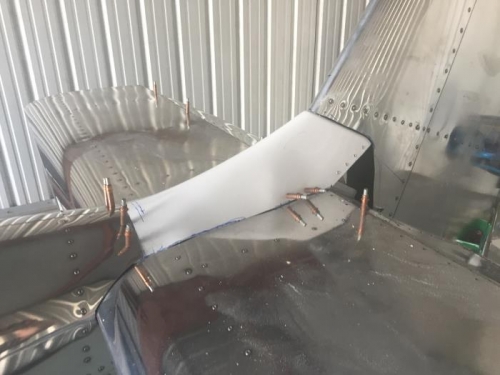 Saddle with leading edge drilled out where nut plates will go (clecoed for now).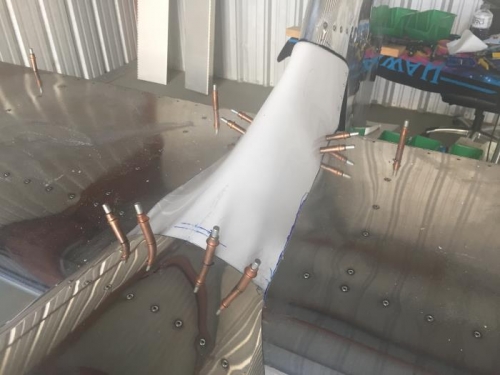 Another view of the leading edge where 4 screws will hold it in place.
Previous Builder
Next Builder