Previous Builder
Next Builder
Date: 09-11-2019

Number of Hours: 0.50

Short Description: Right Tank Proseal Prep

Well, it has been a long time and most of that time I've been rebuilding and configuring my flying RV-6. It's time to get back in the saddle!

I'm starting with the 10 minutes/day idea and hope that catches on. It did today as I ended up doing 30 minutes. I have an EAA Chapter Meeting at 7pm so I need to wrap up here.

The goal was to cleco the Right Tank together and make sure it fits on the wing. The wing is already jigged level on the workshop stand. In placing the Z-Brackets I must cleco from the inside of the tank, otherwise the cleco's will hit the Wing Spar. I'll do that tomorrow and then fit up the Leading Edge and the Joint Plate.

More to follow...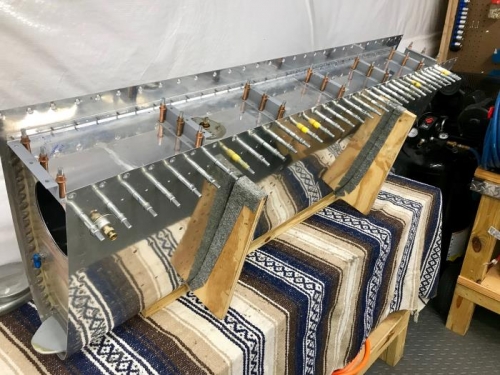 Right Tank in the mount
Previous Builder
Next Builder