Previous Builder
Next Builder
Date: 11-01-2018

Number of Hours: 1.80

Short Description: 2nd engine ground run; compression checks


Borrowed EAA 663's leak-down tester. Cylinder-side gauge consistently read 4 psi higher than the air-supply side. Cold engine readings (corrected): 80/76, 80/74, 80/78, 80/78 cyls. 1-4, respectively. Spark plugs black/sooty from full rich 1st engine run.

Put 8PK's nose into the wind, chocked and tied her down with chain to the truck for static run, cowling on. OAT 81F, DALT 1650. Mix rich, throttle cracked, boost on 10 sec then off. Mix ICO, throttle cracked, crank, push mix rich slowly, started right up. Throttle too far in, RPM 1600. Pulled back to 1300 then 1000 RPM. Leaned mix too much, engine died. Full rich restart, pulled mix ~1" lean, idling 1000 RPM.

Full rich, run up to 1700 RPM. PMAGs: little RPM drop, either one off; cut ship's power-- no effect as expected. Leaned ~1" and ran 1700 RPM ~2 m. Boost on, switch tanks R to L after ~1 m, no stumbles, boost off.

Climbing CHT's 329, 325, 321, 309, cyls 1-4, resp. by this time. Throttle full closed, RPM 600, rough. RPM smooth > 800 RPM. Idled 1000 RPM another ~1 m. CHT's stable at 325, 325, 318, 305. Push full rich, throttle up to 1800 RPM for 10 s. Full open for 5 s, RPM 2250, (uncal'd) FF 10.5 gph. Pull throttle 1100 RPM over 10 s. CHTs peaked 357, 356, 356, 339. Pulled mix slowly to ICO. Imperceptible RPM rise, but it's in the Dynon logs. Engine quit, pulled purge valve open.

Electrical: Main bus, radio off: 12.5V, 4.1 A. Boost pump +5.6 A, 9.7 A total. Started ALT field off. Flipped on after restart: main bus 14.5 V, 5.5 A. Amps down to 4.8 after ~2 minutes. Turned on Nav, Strobe, Wig-Wag: total current about 14 A.

Hobbs/Tach at end of run: 0.3/0.1.

Warm engine comp. (corrected): 80/78, 80/77, 80/78, 80/78. Consistent with a brand spankin' new engine.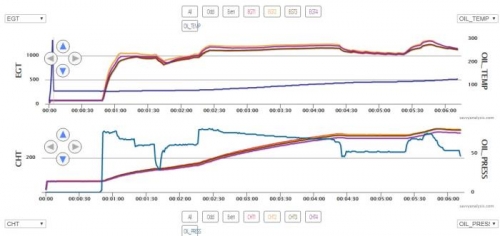 Temps, Oil P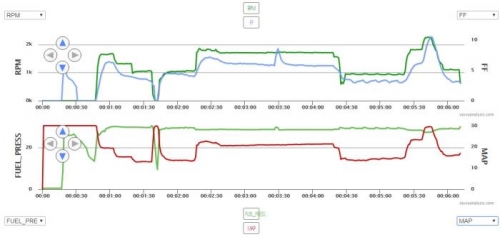 RPM, FF, FP, MAP

AMPS, Main Bus Voltage
Previous Builder
Next Builder