Previous Builder
Next Builder
Date: 01-06-2019

Number of Hours: 10.00

Short Description: Flap limit switch installed


Work hrs for 5 and 6 January. When I went to install the flap limit switch, found out the GND and +14V leads in the schematic (image 1) feeding terminal 1&6 and 3&4, respectively, were reversed! This meant the motor leads were both at +14V when the flap switch was in the middle position. Besides energized wires that needn't be energized all the time, this meant the limit switch couldn't be tripped unless the NO contact ran back to +14V somewhere on the panel. Tried to think of a way around it--no dice. Had to work behind the panel and swap the leads on the flap switch to conform to the drawing. Ouch, my aching muscles, etc. etc.

Final view of limit switch in image 2, with 18AWG wiring laced to the bracket. The colored wires from 1 Jan 2019 were on 22AWG. Only had white 18AWG, but red, yellow, and black heat shrink served to tag them.

Final installation shown in image 3. There's two 6--32 screws visible on the side and one not seen on the front of the C-channel. The bracket is 063 Alclad. All nice and rigid. The bundle of TVS diodes are spliced into the power line closer to the motor. There's a small 063 Alclad angle on the bolt that connects the actuator rod end to the flap weldment which trips the microswitch. Took just a slight bend in the switch's lever arm to trip just as the actuator comes to end-of-travel. With flaps up, there's a bit of room between the lever and the body of the switch, as there should be. Not visible: The NO contact and lead from two of the TVS diodes to are grounded with #8 ring terminals to the left side screw at the base of the C-channel.

Ten hours for this mod, not counting time making part of the bracket at home! No wonder it took me so long to build this sucker....


Flap switch schematic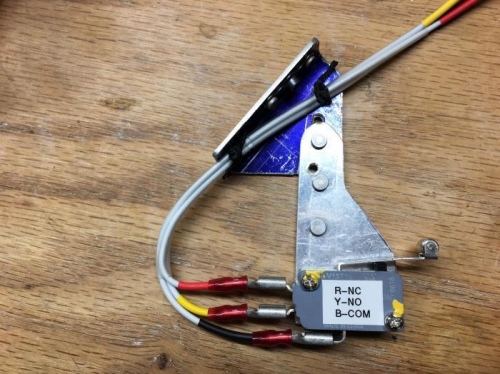 Flap switch w/18AWG
Previous Builder
Next Builder