Previous Builder
Next Builder
Date: 09-02-2019

Number of Hours: 0.00

Short Description: Flight number 2


While putting in the backup EFIS, also installed a RAC speed controller for both trim motors. It's basically a linear voltage regulator (instead of a PWM H-bridge) but it's simple and light. I drew up a circuit to feed +voltage from either the forward or reverse lines power lines to the trim motors through two diodes a and pull-down resistor. The SV-EMS C37P20 and P21 lines were set as contacts. When the motors are not moving, the voltage is 2.5, and when moving in either direction, the voltage is 5V. Plenty of margin for a contact light on the EMS screen to light up when the motor is moving. Would be cool if the Dynon could throw an alarm if motors were on longer than 3 sec.

With Barry in Australia, took her up all by myself and repeated test flight 1--without the computer glitches thank you very much. A few issues along the way: a) left hat at home; b) tried to start with tank selector OFF; c) turned off both mags during run up; d) took off with flaps down; e) did not use boost pump for t/o or landing. CHT's got above 400 because I could barely climb at 100 KIAS until I noticed the damn flaps. Boy, takeoff was like an elevator--200 ft+ above the runway in no time. On the good side, worked up to 130 KIAs (75% power, CHTs well below 400) and down to 65 KIAS on fast and slo flight test points. For landing, intercepted a long 4-5 mi straight in to 25R. Was right on 70 KIAS for last 2 miles, and landing was a breeze, maybe a tad of side load, but nose gear was off the pavement until full up elevator couldn't keep it off.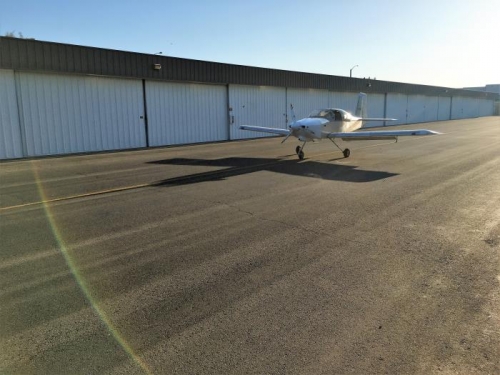 8PK waiting for go-gas...
Previous Builder
Next Builder