Previous Builder
Next Builder
Date: 10-14-2018

Number of Hours: 2.00

Short Description: Revised purge placard; cut down lock-out key


Revised the purge valve label in PowerPoint (image 1). Pulled the old label off the purge valve Bowden cable handle and cleaned with acetone. Cut out the new label from the photo paper it was printed on and installed with 3M 77 spray adhesive. New placard shows that when the fuel selector is on the left tank, the boost pump transfers fuel from the left to the right tank. If right tank selected, fuel is drawn from the right tank and is returned to the right tank.

Image 2 shows the label for the swing-out guard over the alt air cable. The label was folded along a horizontal line at the top of the yellow chevrons, forming a 90 degree angle, the adhered to the guard with the solid black on top of the guard and the yellow/black portion on the aft-facing side.

Cut down the master lockout switch's keys so there is less chance of my left leg catching on it in before, during, or after flight. The key's spine and teeth protrude from the upper left corner of an approximately 1/2 x 3/4 inch rectangle, with a hole for a key ring near the lower right corner. I drilled a new hole near the upper right corner, and cut off the lower 2/3rds of the rectangle.

One key--a spare--will live in the map box. I attached a short lanyard made from lacing tape to the other key. With the lanyard looped around the allternator pullable break, the key may be inserted into the switch and turned on. The lanyard's slack is nearly all taken up in this position, everything neat and tidy in flight. The key can live in the switch almost all the time, only being removed when its possible for uninformed or ill-advised people are about who might flip on the master and press the starter button.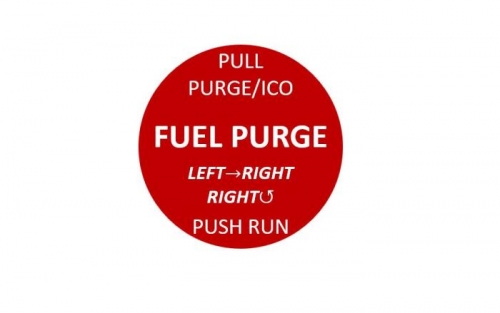 Revised purge valve label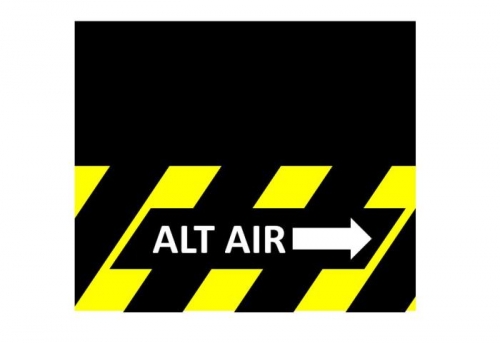 Alt air guard label
Previous Builder
Next Builder