Date: 07-22-2018

Number of Hours: 7.30

Short Description: Wet the tanks with avgas...alas no flow!


OK, so another big day...first gas.

Called Five Rivers and they said it's fine to fill up a couple jerry cans with 100LL at the self-serve. An RV-7 and a Sonex were there ahead of me, A line guy was throwing open valves in the fuel farm to get the pumps going. A flight of three Yaks flew the overhead while I waited then pulled up to the pumps. Three pilots, three tan flight suits. I didn't ask them if they were here to influence our elections.

Back at the hangar with two 5 gal cans of gas, it took a bit to figure out how to transfer gas 2 gal at a time to calibrate the left tank. Newfangled spring-loaded safety spouts have to pushed back by a tab bearing on the lip of the container or filler neck of the fillee. I put 2 gal cans against the outside of the hangar door, fill neck face out, keeping them from moving when the 5 gal jerry can bore down on the lip. Thirty pounds of gas is heavy! Saved my back sitting on the low stool to make the transfers. Then I used a long-spout funnel to stick into the filler hole on the wing.

The cap sender circuitry did register a change, but only 440 mV from dry to literally brim full. (The 2 gal pours weren't exactly NIST traceable measurements, so after getting 10 more gal to finish filling, the last 2 of the 18 gals turned out to be >18 gal and a few drops (ahem) spilled on the floor. I calibrated the dip tube (nothing in the tube until 6 gals were already in) at the same time with a center punch on the blank Al scale.

OK, the big moment. A 5 gal can in place for the overflow--boost on: 15 sec, nothing. 30 sec, nada. 45 sec, no flow. Holy crap, I couldn't have wired the pump motor bass-akwards, could I? Despite a lunch break and searching the interwebs, I didn't find the apparent answer 'till after trying reverse polarity, which didn't work either.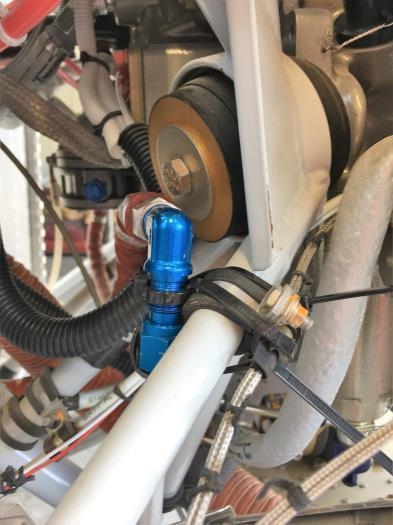 Overflow line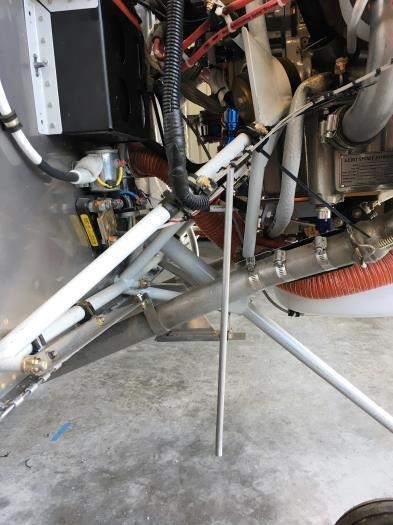 The whole overflow line...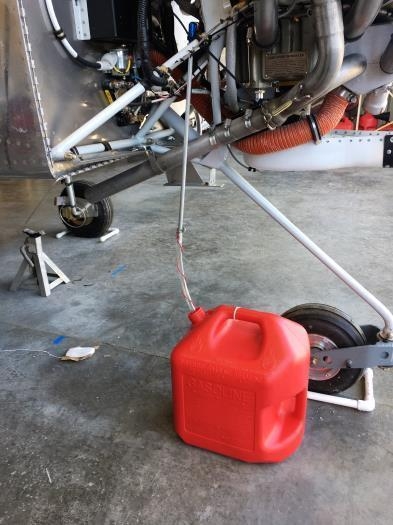 ...with Tygon extension and ground wire