Previous Builder
Next Builder
Date: 05-18-2019

Number of Hours: 2.00

Short Description: 10 Hour Inspection 2


i removed the in-line fuel filter to inspect it. I figured I never ran a fuel flow test without the filter so any debris from building my RV must have flowed thru this filter. But I was shocked at what I found.

I expected it to be fairly clean. But I found all kinds of debris in the filter. Fuzz, bugs, hair, shavings and dust clumps. I am glad I looked. I cleaned it and now I'm set with a 100% clean filter. I guess this was the building debris I feared might be in there. It was. Look close at the photos and you'll see it.

All the bolts and washers looked good and still in place. I checked joints on stick and elevators.

I did put a safety wired to hold the hinge pin of the elevator trim. It never got installed.

I removed the oil screen, nothing in it. Filter looked clean. I think break-in went well. I added only 1 quart during the first couple hours and then a half more before 10 hours was reached. But I was running on a little over 7 quarts. Now it is filled to 8. I'll see how long it stays at 8 quartes. I expect 1 quart to blow thru and stabalize at 7.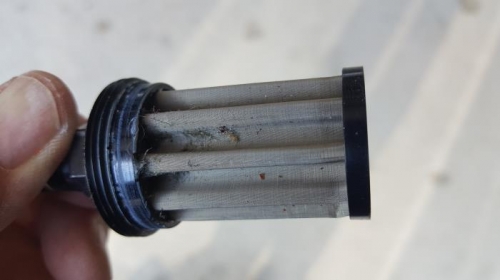 In-Line Fuel Filter depris
In-Line Fuel Filter depris
Previous Builder
Next Builder