Date: 05-27-2020

Number of Hours: 8.60

Short Description: Refine engine, pre-inspection

5/24/20
2.3 Hours
Re-torqued prop clamp bolts. Safety wired the prop mounting bolts. Added chaffing tape to engine mount where I had wires and lines zip tied to frame. Got 8 out of 10 done

5/25/20
.7 Hour
Finished adding chaff tape tape to engine mount. Added marks on coolant overflow bottle at half and three quarters.

5/26/20
2.6 Hours
Opened the inspection panels. Installed the cross member in bottom of fuselage. Armed ELT and tested.

5/27/20
3.0 fHours
Paul did a pre-inspection for me. Scheduled DAR is 5/30/20. He found 19 issues, anything from loose jam nuts to things rubbing on each other. Corrections takes from a few seconds to a whole lot longer.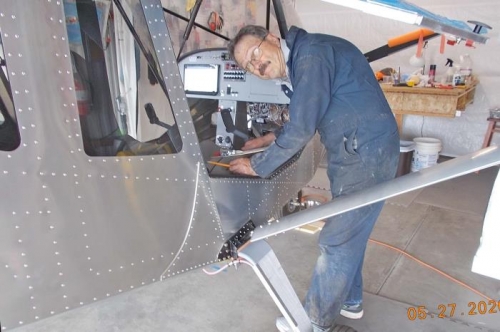 Paul pre-iinspecting