Date: 07-15-2019

Number of Hours: 12.60

Short Description: Fin mounting, elevator pulleys

7/13/19
4.8 Hours
Fin on and off many times to get lower edge of fin skin to clear stabilizer. Had to enlarge opening for elevator to get the 28 degrees up travel. Emery cloth to relieve elevator skin from rubbing on fin opening.

7/14/19
4.5 Hours
More fin on and off to get fin and stabilizer skins to clear. Elevator cables were miss marked from factory. Started on pulleys and their brackets. Included AN5-10 bolts are too short. Ordered -11s. Completed top one. Connected elevator control cables to elevator and checked movement.

7/15/19
3.3 Hours
Back drilled through upper pulley bracket into top skin. Removed and deburred. Clecoed back into place. Removed elevator and stabilizer. Started on lower pulley bracket.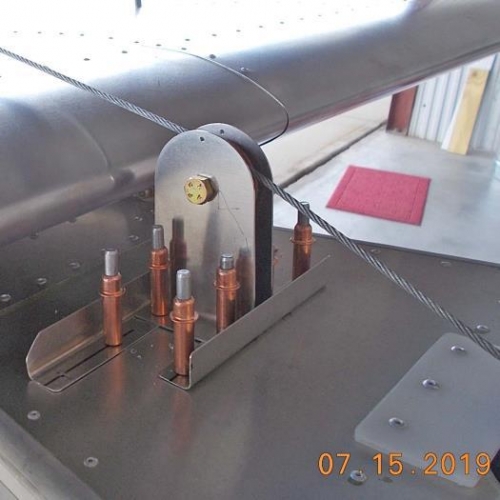 Upper elevator pulley