Date: 03-17-2019

Number of Hours: 6.40

Short Description: Electrical

3/14/19 Unable to get to hangar because of snow drifts across access roads/taxiways.

3/15/19
2.0 Hours
Cut a piece of hose to shield wire bundle thru hole under pilot seat and installed. Drilled hole in L angle on right side for zip tiai to hold wire bundle. Added piece of grommet edging to right side seat support to protect wires.

3/16/19
Received electrical parts from ASS.
3.2 Hours
All electrical. Got the rectifier, and capacitor wiring finished. Wired in engiine oil pressure and fuel pressure sensors. Crimped ring terminal onto ground for power panel

3/17/19
1.2 Hours
Measured for the doubler to go on fuselage roof for comm antenna. Realized I omitted fuse between rectifier and shunt and added that. Dressed hole in instrument bulkhead some more for power panel then back drilled mounting holes. Ordered 6-32 mini nutplates for instruments.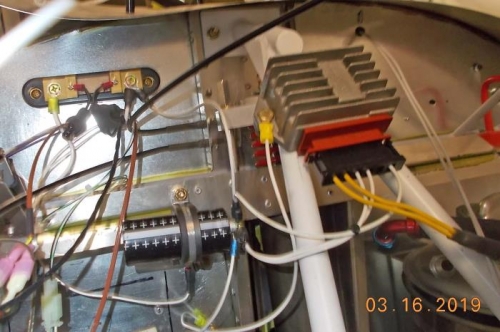 Rectifier & capacitor wo fuse