Previous Builder
Next Builder
Date: 03-04-2018

Number of Hours: 1.50

Short Description: Drilled Ribs and installed Grommets


1. I decided to make a jig to locate the grommet holes in the wing ribs. RANDS did not drill pilot holes which would have made things a lot easier. The jig is just a piece of angle. I cleco one flange to the top of the rib to be drilled and I drilled through the locator hole I drilled in the other angle flange. All holes are a #40 drill size.
2. The blue circles are the holes to use, the other holes are mistakes. Once I drilled the pilot holes in all the ribs I used a step drill to drill to final hloe size. I started by trying a 5/8" twist drill and it bit very hard into the thin ribs and left a star shaped hole. The step drill is much easier to control.
RANS called for a 5/8" hole to acept the grommets. I drilled a 9/16" and then pulled a SHAVIN tool around the ID several rounds and the grommets fit very nicely. A Full 5/8" hole leaves the grommet a little free to spin in the hole.
3. I installed the edge protector around the hole in Rib #2 and I think this needs to be glued. I will ask tomorrow when I call RANS about wire size for the wing lights plus the pitot tubing. Neithor are included in the kit.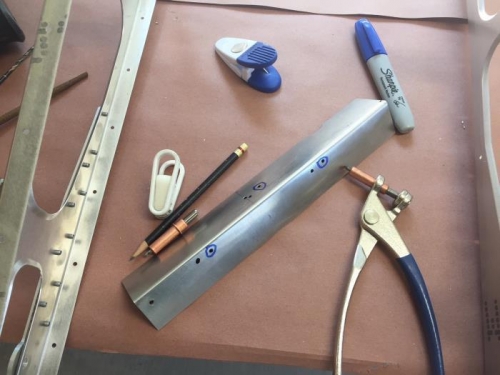 Grommet Locating Jig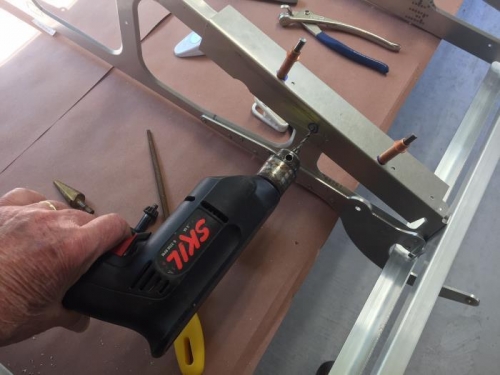 Drilling Grommet Pilot hole with Jig
Grommets Installed in a Row
Previous Builder
Next Builder