Previous Builder
Next Builder
Date: 01-31-2020

Number of Hours: 5.00

Short Description: Successful Completion of Airworthness Inspection


Completed bending the cotter pins in the cockpit. Assisted John Rice and Mike Dooley in adding clamps, zip ties, and silicon tape to the engine area to additionally secure the wiring and hoses. Rerouted the hose to the engine driven fuel pump and added a clamp to secure the middle of the hose.

Roger Howell joined us at the airplane and we started reviewing the paperwork for the inspection. Reviewed the picture log of the build and the builder log. Reviewed the operation limitations while Roger started the physical inspection of the aircraft. Reviewed the inspection results and then prepared the aircraft for engine start. Primed the engine and pulled the prop through eight blades. Moved the aircraft outside and chocked the wheels. Started the engine and ran it for about three minutes at 1000 rpm. Roger checked the engine instruments and had the engine shut down. Went back into the hanger to finish the paperwork and do a final review of the operation limitations. Went back outside by the airplane and took a picture with the certificate. This finished the inspection and completed the certification.

The aircraft was moved back into the hanger. The required paper work was placed in the document packet and stored on the right side of the cockpit. The panel under the right wing stub was mounted back in place.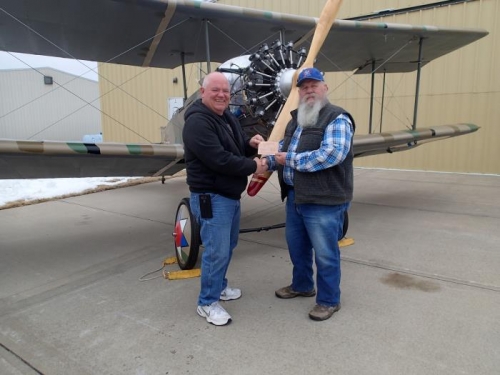 Roger Howell Presents Certificate
Previous Builder
Next Builder