Previous Builder
Next Builder
Date: 10-30-2018

Number of Hours: 4.00

Short Description: Brakes, Rudder Travel, and Baggage.


My past experience with bleeding brakes always involved hours of pumping, releasing, and repeating... In this case, I had the whole afternoon set aside, and 30 minutes later I was done and looking for the next project - Woot!

To bleed the brakes I used a model airplane fuel pump and some large fuel tubing connected to the bleeder at the bottom of the caliper. At the reservoir, I used a 1/8" NPT to 1/4" nipple along with a short length of 1/4" hose and an empty Pepsi bottle to catch the over flow, but it turns out I didn't need this. Based upon 2nd hand recommendations from Matco, I used locally available Mercon synthetic automatic transmission fluid.

The process was super simple. Just connect the pump on the pilots side, open the bleeder and give the crank about 6 slow turns, close the bleeder and pump the pedal a couple times, then open the bleeder and give about 3 cranks. Repeat with 3 cranks at a time until oil shows up in the bottom of the reservoir. Then repeat on the copilots side - Done deal!

The only issue I had happened when I pumped the pedals with the pump connected and the bleeder open. I found out that this will force the pump tubing off the bleeder and spit a slosh of fluid on the floor. Close the bleeder before moving the pedal.

Talking to Glenn, he recommended increasing the rudder travel from the 28 degrees specified in the manual to as much as possible without hitting the elevators, so I took his advice and reset my rudder travel.

I also riveted in the rear baggage compartment. It is fun to see the interior nearing the final stages. Lots of time spent in the pilots seat making airplane noises at this point :)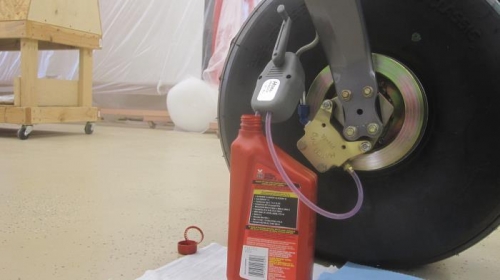 My brake bleeding setup.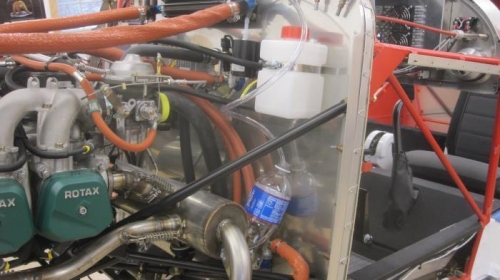 My overflow setup. Turns out it was not needed.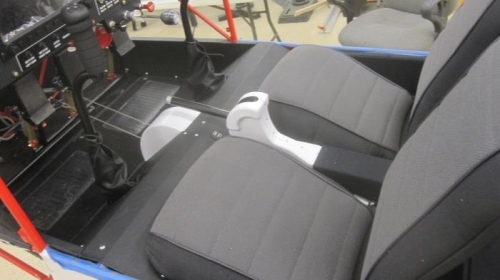 Interior is starting to look complete.
Previous Builder
Next Builder