Previous Builder
Next Builder
Date: 12-31-2017

Number of Hours: 2.00

Short Description: Cowl work


Final post of 2017…seems weird. I went back and looked at my first post of the year and I was up to my elbows in wiring in January. At the time it seemed like it would still be forever until first flight, but it all came together in October and off we went. It was a big year for me and the RV.

And now back to reality…today's project was a scarf joint to fix some issues with the fit of the top cowl along the aft edge where it meets the fuselage structure. As detailed in previous posts, a lot of rework could have been avoided by 1) better plans, 2) more thorough reading of plans, 3) completely understanding the interaction between assemblies before cutting, drilling or riveting, and 4) all of the above. The scarf joint will hopefully serve two purposes—first, it will allow me to trim for a more consistent gap between the cowl and fuselage, and second, it will give me another shot at drilling the holes for the camlocks to avoid the ugly gapping that I had in a couple of places. I'm optimistic on both counts.

Sand the edge, clean it all up, attach a base for the fiberglass to mold to, apply packing tape to keep the fiberglass from sticking to the base, cut the cloth strips, mix up and apply the first coat of resin, embed the cloth and repeat three times. You spell this process S…C…A…R…F and if you find yourself doing one, you probably didn't do it right the first time. Happy New Year!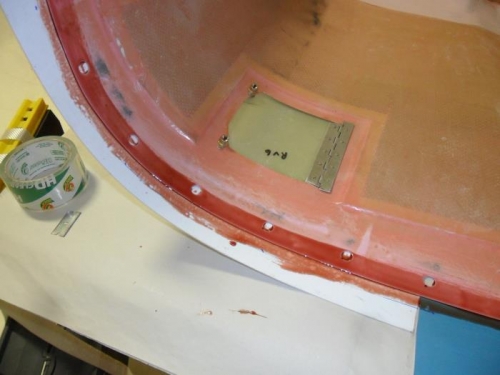 Scarf joint part 1...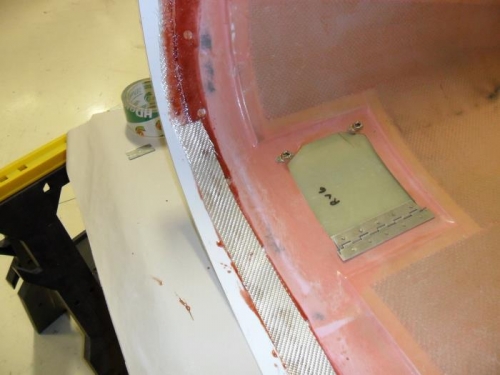 ...part 2...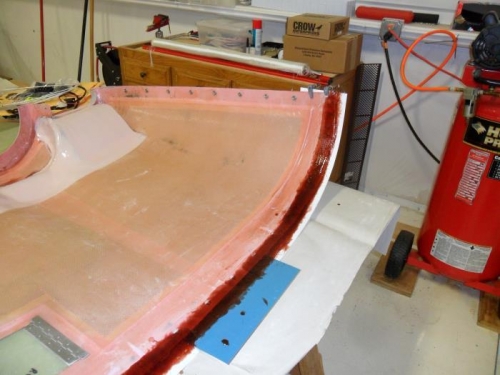 ...and part 3
Previous Builder
Next Builder