Previous Builder
Next Builder
Date: 10-13-2017

Number of Hours: 4.00

Short Description: First Flight!


With clear skies and light winds, today was the day. My brother Steve came in from North Carolina, and joined other brother Doug and good friend/hangar partner Ross to assist as the first flight support crew. Start up and taxi were normal at this point, so after a thorough runup, external look-over and final check of the instruments I made the call for the first time "Stearman traffic, Experimental 413 Delta Juliet departing runway 17"

The engine developed the full 2700 RPM (thanks Lycoming & Hartzell), airspeed came off the pegs at 20 kts (thanks Garmin) and we were airborne well before we passed my open hangar doors (thanks Van's). All-in-all, I couldn't have asked for a more perfect first flight! Of course there were a few minor issues to deal with during Phase 1 testing--the typical high CHTs, a mushy right brake, and a very steep learning curve for the pilot...none of which is surprising.

Thanks to all my family and friends for their support over the years!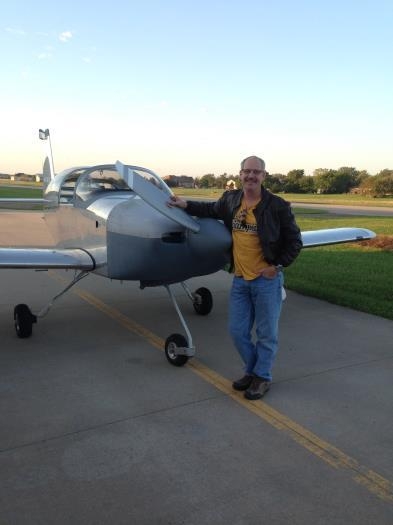 The famous RV grin!
Previous Builder
Next Builder