Date: 08-20-2017

Number of Hours: 6.50

Short Description: Control system, flaps & cabin covers


Lots of progress today! I started out by finishing up the pitch control assembly and checking the torque on all of the connections. Each one got a dab of torque lacquer as I went along so I'll know those have been checked. A quick cycle of the flight controls showed free and correct movement in all directions. I still think there is a bit too much friction in the elevators, so I'll probably work on that a bit between now and airworthiness inspection.

The two center ribs over the control column utilize a small removable bracket to facilitate installation of the controls. I modified the next two outboard ribs in the same manner, but more due to the fact that over the years they had bent from the constant abuse of climbing around inside the cabin. One had even cracked at a weak point, so I was going to have to do something anyway. During the process I also trimmed the upper portion of each rib where there was slight interference with the control column during full nose down stick travel. These four rib brackets were then installed and everything in the area vacuumed to prepare for putting the floor panels in.

Next I climbed into the baggage compartment and spent a couple of hours working on the flap assembly. All of the components had previously been fabricated, installed and checked, but now was the time to add washers & spacers, final attach all assemblies, check operation, etc. I also complied with Van's service bulletin requiring the addition of a safety wire to the flap rod end bearing. This required drilling a small hole in the end of the housing, but conveniently, mine had already been drilled. Sitting in the baggage compartment gave me the best access to the flaps, but it's just not a comfortable place for an adult human…I was glad when I got everything finished.

I spent the last hour or so installing the covers over the flap assembly, the baggage compartment sides, center cabin tunnel and forward floor panels. Interior installation is next!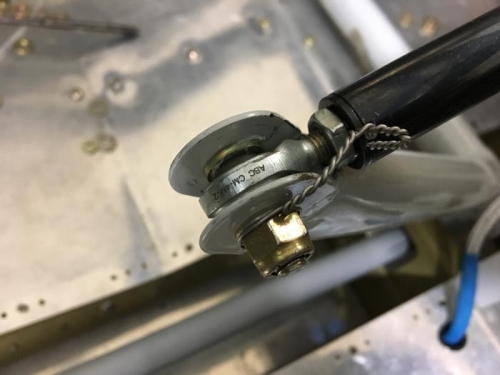 Van's flap rod end bearing service bulletin compliance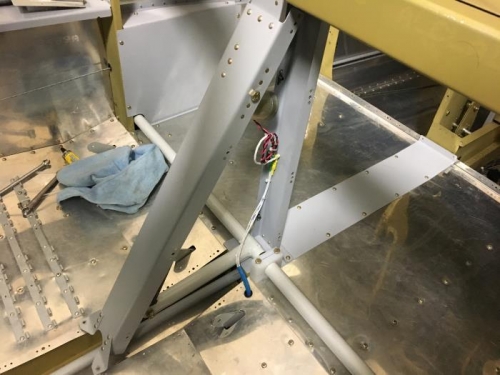 Flap assembly installed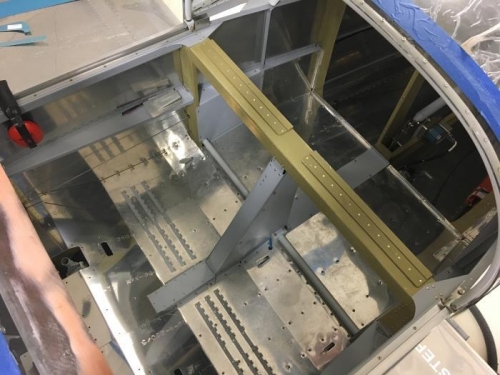 Cabin area with covers and floor panels installed